What Features Should I Look for in a Dining Chair Set?
The features you will require in a dining chair set will depend on your personal tastes, budget, and the overall décor in your home. You should look for items made from durable materials, such as solid wood or metal, and for those made for the type of setting you will be using it in. You should also consider the tone and appearance of the surrounding furniture.
There is no right of wrong dining chair set, so you should choose an option which fits your own personal style and needs. You should consider several practical aspects, such as the style and size of your dining table, as well as how much you are looking to spend. Make out a budget before you begin shopping and stick to those sets which are within your price range. There are options within nearly every budget.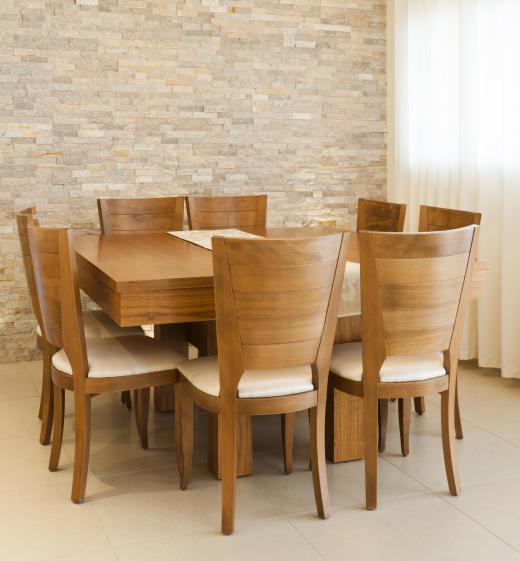 If you will be using your dining chair set in a particular room or setting, you should consider that as well. Chairs being used with an outdoor patio set will need to be designed to withstand outdoor weather. This usually means they are made from naturally weather-resistant materials and sometimes covered with sealant or weatherproof paint. You should also consider the surrounding furniture. For instance, you would want to choose something with a more ornate design for a very formal dining room and something more casual for an eat-in kitchen or bar.
You may also need to choose a dining chair set designed for public restaurants or other eateries if you will be purchasing for a commercial setting. These can often be purchased in larger quantities for discounted prices from certain manufacturers, and they are made more durably than many options designed for home use. To get the most durable set, choose those made from hardwoods, steel, or aluminum.
Comfort is another important factor in choosing a dining chair set. For the most comfortable options, look for chairs with upholstered seats and backs. Some also have backs which are high and contoured to the shape of the human body for greater support. You may also find chairs which have swivel seats and footrests to be more comfortable than other items. When available, sit in each chair to determine test its comfort level before you purchase.
Colors, styles, finishes, and other design features are all discretionary based on the styles you like. There is no right or wrong way to choose a dining chair set so long as it meets your needs and tastes. If you want to find one to match your existing décor, take paint swatches or other samples with you when you shop.
AS FEATURED ON:
AS FEATURED ON:






By: Dmitry Pistrov

Durability, comfort and aesthetics are all things that should be considered when choosing dining room furniture.