What Factors Affect an Optician Salary?
Opticians typically focus on ensuring that glasses and contact lenses properly fit each patient, and there is a wide range of salaries associated with this job. One major factor that influences the typical optician salary is the level of education, and a bachelor's degree often helps opticians earn the highest salaries. An additional way to get paid well in this career is to earn a license or certification or take on an apprenticeship, even if none is necessary. The location of the job also usually influences salary, because certain employers tend to pay more, especially when they are in a larger city with a high cost of living.
Some employers of opticians do not require a college degree but those with just a high school diploma generally start out with the lowest optician salary possible. The majority of opticians tend to enter this field with at least an associate's degree, which usually provides a slightly higher salary and better job prospects. It also is possible to get a bachelor's degree in this field, in which case the salary typically is even higher than the amount offered to those without this type of degree. This is especially true when an internship has been completed, because the more experience in this industry that someone has, the higher the salary usually is.
There are areas in this field that require licensing, which means a number of exams must be passed before a license will be offered. In the areas that do not require a license, getting one anyway often can increase the salary of the optician. An additional way to increase an optician salary when a license is not an option is to take part in an apprenticeship. This type of work experience involves being supervised by an expert in this field while helping to ensure that contact lenses and glasses fit correctly. When an apprenticeship or license is not an option, gaining certification by passing certain tests may be the best way to increase an optician salary.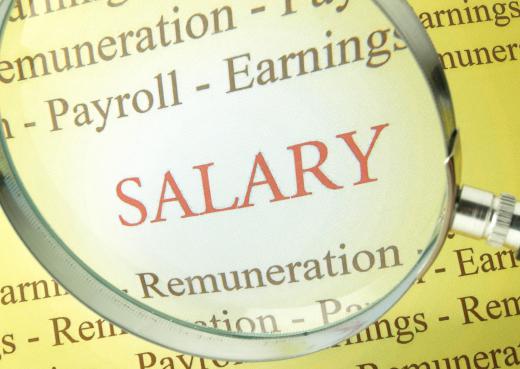 In many cases, one of the biggest factors in an optician salary is the location of the job. In major cities, the cost of living tends to be higher than in smaller areas, so the average salary also usually is higher. Within each city, though, other factors influence the amount of the salary, such as the type of employer. For example, those who work in stores that sell glasses and eye care products tend to make the most money in this industry, with those who work in hospitals coming in a close second. Opticians who work in doctor's offices and department stores often make the least amount of money in this field.
AS FEATURED ON:
AS FEATURED ON:






By: ruigsantos

An optician can train to fit people with contact lenses.

By: alejandro dans

One big factor in an optician salary is the location of the job.