What does an Online Detective do?
Detectives are experienced with performing investigations. These may be criminal in nature or limited to administrative type cases. An online detective has similar duties, though duties and services may vary depending on the type of investigation performed. For instance, a person may acquire information pertaining to another person, a business, property, criminal activity, etc.
The title of online detective may include anyone using the Internet to look for information. Depending on the information needed, knowing how to ask the right questions during the search is key to locating or obtaining the proper records or sources. In addition, it's important that the information is accurate. This may be based on the content of the site in which it is found or source in which it is obtained.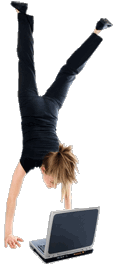 One of the most common services that online detectives provide is locating missing people. In addition, they may help track down old friends or loved ones. Cases involving infidelity are also quite popular. Generally, these services are provided to individuals who either do not know how to access the proper records or simply have had no previous luck on their own.
Businesses sometimes require the use of an online detective. In these instances, information is gathered for performing background checks. Occasionally, the information may be criminal in nature, such as with insurance fraud, identity theft, or hackers. While hiring a private investigator has usually been the norm for these types of services, many types of records can be easily accessible on the web. However, not all the information is free but can be more affordable than hiring outside agencies.
In lieu of a private investigator, a good online detective database or software service can be used to find whatever you may be looking for. Detective databases enable users to locate pertinent information at a fraction of the cost. While these subscription-based services vary in price depending on the information provided, most of them range between $20 to $40 US Dollars per month. Since many copycats and scam artists take advantage of these types of services, it is important to check them out thoroughly beforehand to ensure they are both up to date and accurate.
Individual software programs can also be purchased. This type of software accesses all public records currently available. Widely used by ordinary people, businesses, and even law enforcement, online detective software generally provides the most accurate and updated information. Family researchers and genealogists also find this software useful. These people are often considered detectives in their own right, as they continually scour through a multitude of records in search of clues for solving puzzling family histories.
AS FEATURED ON:
AS FEATURED ON:






Woman doing a handstand with a computer