How do I Become an Online Detective?
The route taken to become an online detective will depend on what services you plan to offer. In most cases, you will need to become licensed in private investigation in the area in which you live, and perhaps in additional areas where you intend to do business. Services you offer online may include criminal background checks, online history reports, and person location services. You may also choose to combine Internet detective work with more traditional private investigation.
In order to become licensed in private investigation, you will likely be required to either attend a training school or academy, or apprentice for a practicing investigator. Requirements for becoming licensed vary depending on location, so you should always check into regulations in your area and in any area where you would like to offer your services. In some cases, you may only have to study and take a test or apply for a license with no schooling necessary. In other areas, full college training will be required.
Before you become an online detective, look into any additional licensing you may need. This may include gaining a business license if you intend to be self-employed. If you find work with an existing agency, no further licensing may be needed.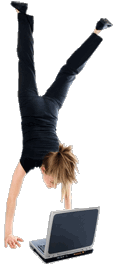 Most often, in order to become an online detective, you will acquire specialized software that makes accessing hard to find files and information easier. These programs may be linked to personnel files, criminal records, and additional information not available via regular search engines. In most cases, you will have to pay for this software, but it will prove invaluable as you go about doing your job.
You can go about finding clients for your own online detective business by advertising on online boards, and by creating a website and marketing it using various methods. In many cases, it is a good idea to network with those who would be most likely to use your services. Calling local businesses is another good idea, since often they need to conduct background checks on potential employees.
If you would rather become an online detective for an established private investigator or online detective agency, call around and find out who is hiring and what training they look for in an employee. Mention any past experience you have, and craft a resume highlighting any work you have done in researching or investigation. Use instances of having to do these things in your everyday life if you do not have professional experience, and include any schooling you have obtained.
AS FEATURED ON:
AS FEATURED ON:






Woman doing a handstand with a computer