What does a Veterinary Surgeon do?
Like people, animals often become ill and need to have surgery. A veterinary surgeon sometimes performs surgery on animals to remove tumors or kidney stones. Other times, this professional may perform routine procedures such as spaying and neutering pets. He could also set broken bones whenever creatures are injured. This type of veterinarian may work in a variety of settings including animal clinics, zoos, or stables.
A veterinary surgeon is often found at an animal clinic that examines and treats companion animals. In this setting, the surgeon typically performs procedures such as spaying, neutering, ear cropping, and declawing on dogs, cats, or rabbits. These types of surgeries are normally performed at the clinic or hospital at the request of the pet's owner.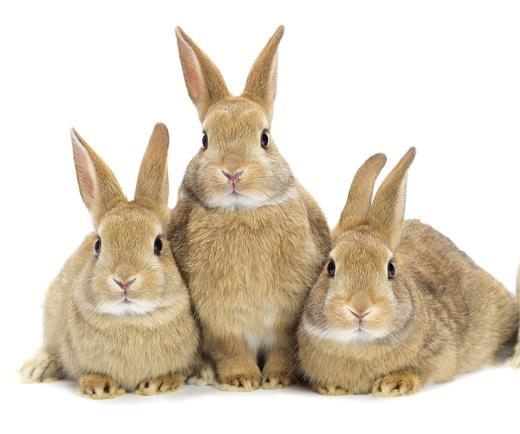 Pets sometimes become injured and need emergency veterinary care. In these instances, a veterinary surgeon might treat animals that have been hit by an automobile or been attacked by other animals. This might require him to work unusual hours, often being called after normal duty hours to respond to these emergencies.
In some instances, a veterinary surgeon might need to run tests and read the results to see what type of surgery is needed. This might mean the doctor will take x-rays or draw blood in order to determine the exact problem. Doing this is often crucial to an animal's health, as it cannot tell the veterinarian how it feels or what might be wrong.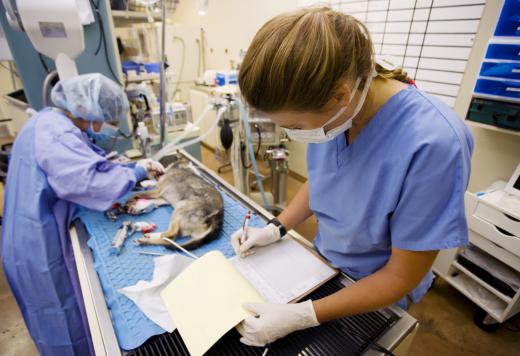 When x-ray results reveal broken bones, they must often be set by a veterinary surgeon. He might do this by putting legs in a sling or cast. If there is a broken back or neck, the doctor may restrain the animal in order to keep it from moving and causing further harm.
Many surgeons work in private practice, performing a combination of routine examinations and surgeries in a medical office setting. Others might work at zoos or aquariums where they are responsible for treating exotic animals that show signs of illness. Still others may primarily treat farm animals such as cattle, pigs, or horses. These veterinarians often travel to the farm to visit the animal rather than having the creature brought to his location.
In most countries, a veterinary surgeon must be a licensed doctor of veterinary medicine (DVM). This means he must pass a licensing exam in order treat animals. Continuing education is often required for this doctor to be able to continue practicing.
AS FEATURED ON:
AS FEATURED ON:






By: rusugrig

A veterinary surgeon might perform procedures on pet rabbits.

By: Scott Griessel

A veterinary surgeon performs surgery on animals.

By: m-buehner

A veterinary surgeon may perform procedures on livestock animals, such as pigs.

By: Kadmy

Veterinarians who treat farm animals often travel directly to the farms to visit the animals.

By: Monkey Business

A veterinary surgeon will often work at a zoo or on a farm.