How do I Become an Orthopedic Veterinary Surgeon?
To become an orthopedic veterinary surgeon who focuses on animals' orthopedic diseases and injuries requires years of hard work. For instance, you must successfully complete a bachelor's degree. Then you must complete veterinary school and get sufficient specialized training in orthopedic veterinary surgery to become an orthopedic veterinary surgeon.
When you attend a university to earn a four-year bachelor's degree, it can be helpful to choose a degree that will facilitate your pursuit of veterinary graduate training. For example, degrees such as biology, animal biology, or animal science or any degree which includes the necessary pre-veterinary coursework such as biology, genetics, animal breeding, organic chemistry, physics, and statistics can help you in the application process for veterinary school. Also, while in college, having a good grade point average (GPA) can be useful since application for veterinary school is very competitive. In addition, doing a college internship in a veterinary environment such as a veterinary clinic, veterinary hospital, animal shelter, or zoo that is at least 180 hours in duration could improve your chances of being accepted to veterinary school.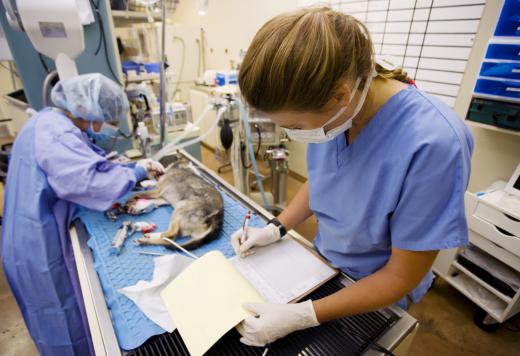 Application to veterinary school typically occurs during the final year of the bachelor's degree; however, before you apply to veterinary schools, it could be helpful to get a list of veterinary programs that have American Veterinary Medical Association (AVMA) accreditation. Look at the various accredited veterinary schools and determine which one would be the best for you in terms of tuition, availability of scholarships that you qualify for, and the programs offered. Also, you will need to take and submit your scores for the Graduate Record Exam (GRE) and possibly the Veterinary Aptitude Exam (VAE), depending on which veterinary school you apply to.
After being accepted to veterinary school, you must successfully complete the coursework, which will typically be four years in duration. You can expect to take courses such as anatomy of various animals, veterinary medical ethics, veterinary nutrition, molecular and metabolic basis of medicine, neuroanatomy, and veterinary pharmacology. Also, there will be required supervised experiences where you will actually work with animals in veterinary clinics or hospitals.
In addition, there will be participation in a veterinary orthopedic program if you hope to eventually become an orthopedic veterinary surgeon. For example, the ACVS accredits various veterinary surgical residency programs and you must successfully complete one to get board certification and become an orthopedic veterinary surgeon. In addition, it will be necessary for you to pass the veterinary medical board exam (VMBE) in whichever state or region you plan to practice veterinary medicine to become an orthopedic veterinary surgeon.
AS FEATURED ON:
AS FEATURED ON:






By: Scott Griessel

Orthopedic veterinary surgeons must be specially trained in orthopedic veterinary surgery.

By: Gabriel Blaj

Orthopedic veterinarians help treat animals suffering from musculoskeletal disorders.