What does a Pharmacy Aide do?
A pharmacy aide performs many essential clerical and customer service duties in a retail pharmacy or hospital setting. He or she commonly makes sales, stocks shelves, and takes inventory, in addition to answering customer inquiries on the phone and in person. An aide might be required to create and maintain customers' records and request payment from insurance companies. To work as a pharmacy aide, a person does not usually need extensive educational credentials, though practical experience with sales and customer service are important.
Many pharmacy aides do extensive administrative work, such as creating and organizing customer files. They make sure that all information about a customer is accurate, such as a person's drug allergies, current medications, and medical history. Pharmacists use the information filed by aides to ensure that prescription and over the counter drugs will not cause adverse health effects. Pharmacy aides frequently communicate with insurance companies to collect payments, submit claims, and confirm the details about a customer's policy. In addition, aides frequently take inventory and place orders when pharmacy supplies are running low.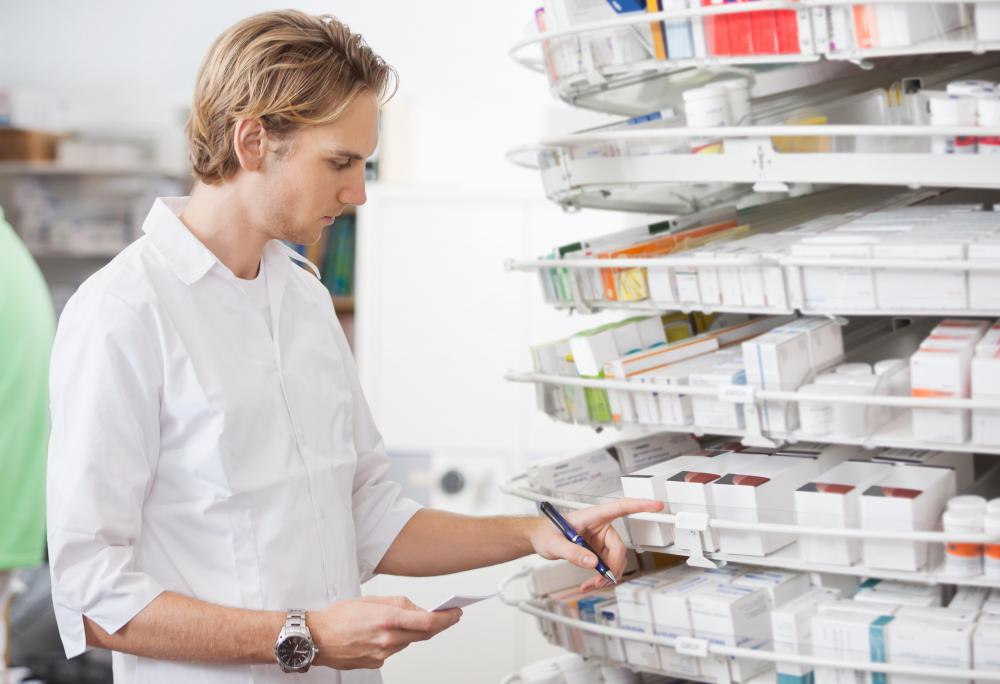 A large part of a pharmacy aide's job involves customer service. He or she usually answers phone calls and assists customers in the pharmacy. An aide is often responsible for operating a cash register and keeping track of daily sales. He or she must become familiar with the different types of over-the-counter and prescription medications offered by the pharmacy, and answer general questions about inventory, dosages, and prices. A pharmacy aide might also be responsible for cleaning the facility and straightening up shelves.
To become a pharmacy aide, a person typically needs at least a high school diploma. Many employers, however, prefer to hire aides that have extensive retail or customer service experience. Prospective pharmacy workers with cash handling and administrative experience generally have an easier time adapting to the particular job requirements. New aides typically receive informal training from experienced technicians and pharmacists, to learn about different products and procedures.
Often, people choose to work as pharmacy aides to gain experience in the field and prepare for future careers in pharmacy. With one or more years of experience and further education, some aides are able to become pharmacy technicians, where they assume responsibility for mixing and dispensing prescription medications. People who aspire to eventually become pharmacists can gain valuable firsthand experience by working as pharmacy aides during their undergraduate and graduate school studies.
By: Zsolt Bota Finna

Medications at a pharmacy.

By: HconQ

A pharmacy aide may perform customer service duties in a retail pharmacy.

By: Tyler Olson

A pharmacy aide may stock shelves and take inventory.