What Does a High School Tutor Do?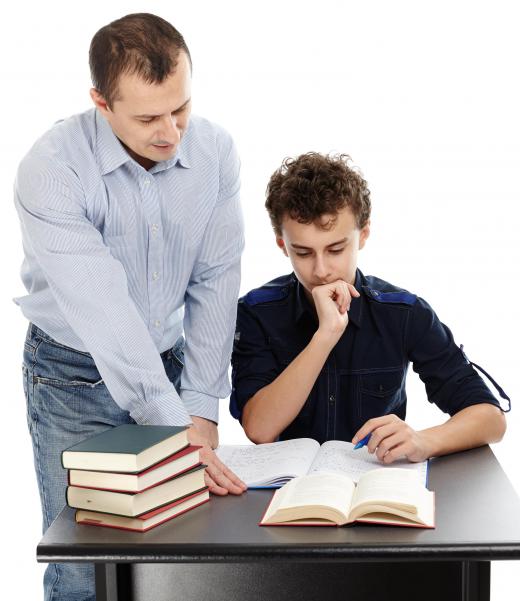 A high school tutor provides academic assistance and support to high school students. In particular, a high school tutor attempts to help students struggling in certain subject areas improve their confidence and abilities in those areas. An educational tutor may also help students prepare for important examinations and reach other well-defined academic goals. Tutoring may be offered via one-on-one teaching at a private location or via online tutoring. A high school tutor may also tutor small groups in places such as a school site, an off-campus study location or in a private home.
High school students having trouble with certain concepts and subject matters often seek the assistance of a personal tutor. Tutors may be contracted to work with a school, may work through a private tutoring center or may prefer to work independently. Some tutors are academically superior high school students or are university students. After a high school tutor is hired, she or he works to provide specific study guidance to students through efforts such as helping with homework, reviewing classwork, reviewing key concepts and assisting with general assignments.
Sometimes a high school tutor may be sought for the sole purpose of passing a particular examination. When additional study guidance is needed, a private tutor familiar with certain types of examinations is often hired to act as a coach to prepare students for those exams. Often, such a tutor is only relied upon for study help for a brief span of time.
Teachers may suggest that a student utilize the services of a high school tutor and some schools may even insist that certain students work with an academic tutor to help accomplish certain goals. A high school tutor may work on a school's campus or may agree to meet students elsewhere, such as a library or the tutor's home or office. Some tutors are also willing to travel to a student's home to provide services. A tutor may also offer Internet-based services which enable a live tutor to offer assistance via email, video, Internet chat or by teleconferencing.
When a group of students identify a shared need for tutoring services, a high school tutor experienced in providing study guidance to groups may be hired. Many tutors have prior experience teaching in classrooms. Some tutors are simply high-performing students, however, and do not have teaching experience, yet have been identified as adept at providing teaching guidance to students in need of study support.


By: xalanx

Some high schools offer free tutoring programs for students.

By: Igor Mojzes

High school tutors may help a student improve their confidence and abilities in certain subjects.

By: jolopes

Some tutors provide guidance to study groups.