What Does a Front Office Receptionist Do?
The specific duties of a front office receptionist can vary depending on where he or she works, but generally, this employee is responsible for interacting with customers or clients who come to a business. The front office receptionist will also handle phone calls, and in some cases e-mails, both from clients and vendors. Other duties this professional may be responsible for include filing, addressing client concerns or complaints, handling paperwork, and tending to various tasks throughout an office or business as needed.
In most cases, a front office receptionist will need to have obtained at least a high school education, though some also continue their education to obtain an associate's degree or a professional certificate. Regardless of one's level of education, the front office receptionist must develop basic math skills, exceptional communication skills, and an ability to type and navigate various computer programs. This professional often needs to balance several tasks at once, and the receptionist's organizational skills must be well-developed. The receptionist must also dress cleanly and appropriately at all times, and he or she must be able to greet customers or clients warmly and professionally, regardless of the circumstances.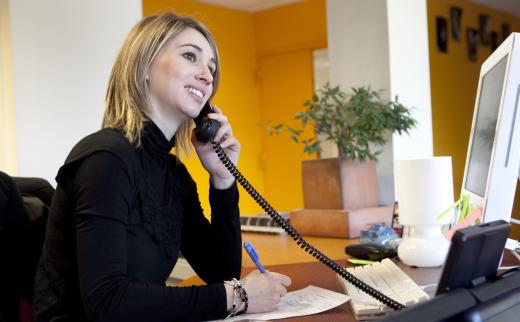 Some front office receptionist positions require the professional to take on additional duties. Filing, for example, is a duty that requires attention to detail as well as organizational skills. In some settings, the receptionist might be required to sign confidentiality agreements, which means any information contained within the files must be kept confidential and cannot be discussed with others. This is especially common in medical and legal settings.
When a client or customer visits an office, the front office receptionist will be the point person that the client communicates with. The receptionist may guide the client to a particular office or room, give the client specific types of paperwork to be filled out, or announce the client's arrival to other specific employees. If the receptionist works in a setting in which appointments are made, he or she will schedule clients for follow-up visits, meetings, or even phone calls if necessary.
Some companies require the front office receptionist to handle work orders and rental forms as well. This is common in industrial companies in which heavy machinery or materials will enter or leave the premises regularly. The receptionist may also be responsible for dispatching work crews if such crews exist within the business.
AS FEATURED ON:
AS FEATURED ON:






By: studiophotopro

A law firm's receptionist is typically the first person a client encounters.

By: daniaphoto

Office receptionists often make appointments on a calendar for clients.

By: Lisa F. Young

A front office receptionist must be warm, friendly and outgoing.