What Does a Food Service Supervisor Do?
A food service supervisor is responsible for food quality, customer service and other aspects of running a cafeteria, restaurant or catering business. A person in this position usually is responsible for supervising some employees but also must report to managers in charge of the entire restaurant or facility. Being a supervisor in food service can be a strenuous job, and it usually is vital to the success of the kitchen for which the supervisor works. It is a working management position often involving both supervision and kitchen or front-line responsibilities.
Responsibilities for a food service supervisor are varied. People who do this job may be responsible for supervising food servers, cashiers, waiters and waitresses. They usually are front-line supervisors who help expedite food or complete other necessary tasks themselves while delegating some responsibilities to other crew members. These supervisors also may be responsible for training crew members, overseeing food safety and facility cleanliness, ordering supplies and managing the budget.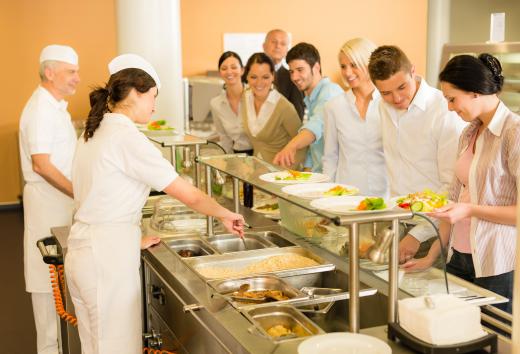 There are many possible work locations for a food service supervisor. Someone with this position could work in a cafeteria in a grade school or university setting, a nursing home, or a military or medical facility. He also could work for a retail food business. A food service supervisor with experience in one of these settings also could transfer his skills and gain employment in other types of facilities.
Training for a food service supervisor can vary widely. Some institutions and restaurants have internal training programs that a person must go through if he wants to become a supervisor in food service. These types of training programs may be given as a series of classes or as on-the-job training with a training manager. A person who wants to be this type of supervisor also might obtain a two-year or four-year degree in restaurant management or business.
There also are many different types of knowledge and experience that may be required. Besides knowing how to manage people, which can be a difficult task, food service supervisors might need to know about food safety, food preparation, budgeting, efficient food service strategies, and restaurant opening and closing. In addition, they need to be aware of excellent customer service strategies, such as how to provide excellent service and how to deal with difficult customers. Understanding the day-to-day operations of a facility and the customer base are essential to being an effective food service supervisor.
AS FEATURED ON:
AS FEATURED ON:






By: CandyBox Images

A food service supervisor runs a cafeteria.

By: Tyler Olson

Food service supervisors are responsible for supervising waiters and waitresses.

By: sattriani

A food service supervisors works to maintain the quality of food being served in a buffet.