What are Waterproof Mascaras?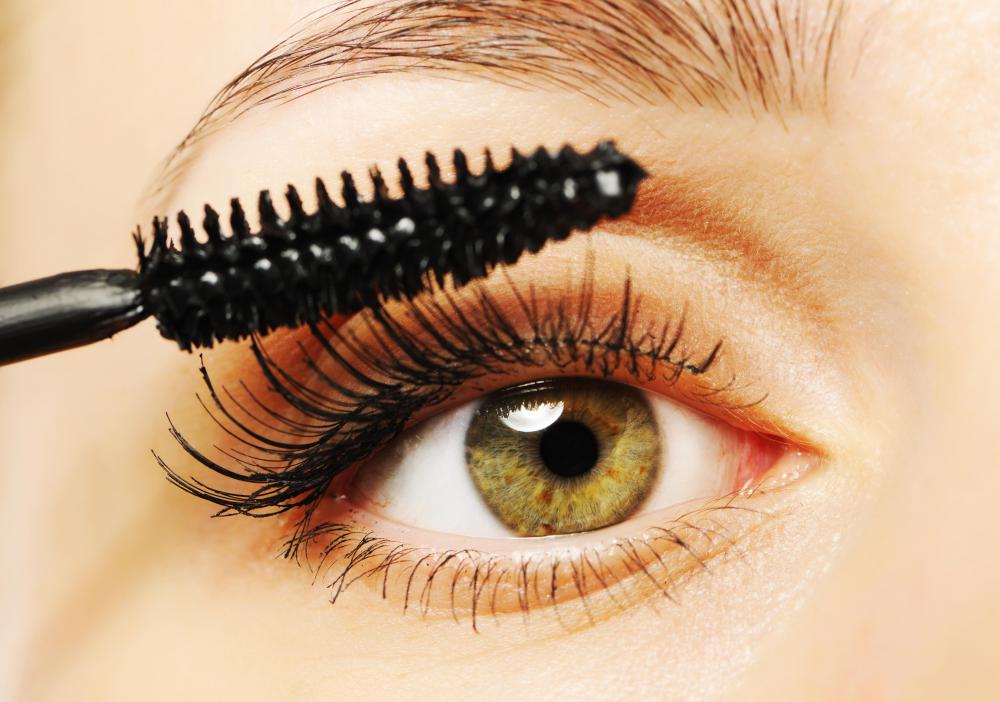 Waterproof mascaras are a blessing for women who have a problem wearing regular mascara due to contact with water, impending tears, hot and humid weather or bad allergies. Waterproof mascara has a better chance of standing up to several situations where a typical mascara may smudge. When mascara runs, it can cause eye irritation, black smudges under the eyes and sometimes an uncomfortable feeling on the eyelashes. Waterproof mascaras can help prevent several of the problems for the same cost as regular mascara.
Companies develop their waterproof mascaras by using different formulas to get a certain product they are happy with. However, the main ingredient usually used in each waterproof mascara is one or more types of wax, such as beeswax. The best way to find a product is by reading customer reviews on each product then following it up by testing the product.
There are several types of waterproof mascaras to test to find the best one. For shorter lashes, a lengthening mascara may be best. For those who believe their lashes to be too thin, a thickening mascara could be a good option. They come in a variety of colors, so there are several options from which to choose.
Not all waterproof mascaras are meant for use on every person's eyes. For example, those who wear contacts should look for a statement on the label that says it is contact lens safe. In addition, opt for mascaras that say they are ophthalmologist-tested and hypoallergenic.
Due to the fact that waterproof mascaras are, in fact, waterproof, they can be a bit difficult to remove. A gentle, hypoallergenic makeup remover can be necessary when removing eye makeup. Never harshly rub or pull at the eyelashes; if it does not come off with minimal effort, move on to a different brand of makeup remover.
The eyes can be extremely sensitive, so it is vital to choose products that will not hurt or damage them. Waterproof mascaras are an asset for those who want to accentuate the eyes without having to worry about the hassles of the mascara running or flaking. Keep in mind that all mascaras are not created equal, so it is important to test them out until finding the right one for you. If there are any questions, an ophthalmologist can give some insight as to which is best according to the characteristics of the individual's eyes.
By: haveseen

A woman applying waterproof mascara to her eyelashes.

By: Africa Studio

Mascara is a makeup that is applied to the eyelashes in order to make them look longer, thicker, and fuller.

By: fotografiche.eu

Failing to wear waterproof mascara when it rains – or when sweating or crying – can cause the makeup to run and smudge.