What are Transcription Machines?
Transcription machines are specially designed voice recording and word processing units that allow information managers to transfer spoken word to written text. These machines, also commonly referred to as transcribers or dictation machines, are generally utilized by professionals in the health care, legal, business, journalism, education and research industries. Transcription machines allow for easy recording of the human voice for accurate data gathering and documentation.
The origins of transcription machines can be traced back to the early 1900s, following the invention of the phonograph and the dictaphone, which allowed users to record and playback sounds. The first of these were produced by the Columbia Phonograph Company as early as 1907, based on these same principles. These early machines allowed spoken words to be recorded on wax cylinders and played back for the enjoyment of listeners who wanted to hear great speeches of the leaders of that time period.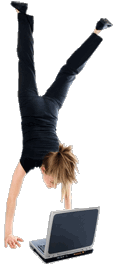 As technology advanced throughout the years, the phonograph and dictaphone were subject to major adaptations with the discovery of magnetic resonance tape. This new technology included the use of electrical current to record sound onto a thin tape that could be stored on reels for later listening. Thus the modern transcription machine was introduced into offices everywhere as a very useful recording and storage tool, in advance of desktop computers.
Over time, transcription machines were developed in more convenient sizes and including features such as micro-cassette tapes, the ability to control the speed and quality of playback and erasing of undesired recordings. Soon, transcription devices become smaller and used micro-cassettes in place of large tapes which allowed users to conceal or carry around transcribers in their pockets. Transcribers have been designed for most every profession imaginable.
Today's technology has enhanced transcription machines even more, with digital recorders that allow for maximum storage and playback quality. In addition, digital recording allows for secure sharing of files via computers, mobile phones and other digital devices. Transcription files can be quickly and efficiently processed by skilled transcriptionists from locations around the world.
Transcription machines have made it possible for large amounts of records and notes to be documented and transformed into hard copy files. This is a process that is especially important in industries such as health care, clinical research, law enforcement, journalism and general businesses where meetings, studies, court hearings and medical examinations can be documented for later use. Transcription is in use in many organizations as a way to document important events for the benefit of those who rely on accurate information.
AS FEATURED ON:
AS FEATURED ON:






Woman doing a handstand with a computer