What are the Side Effects of Blood Pressure Drugs?
Since there are many medications available to treat abnormal blood pressure, it makes sense that there are various side effects that come with these drugs. For example, beta blockers may cause depression, confusion, and extremely slow heart rate, while calcium channel blockers can result in constipation, edema, and headaches. Diuretics may cause gout, increased blood sugar, and loss of potassium. Finally, ACE inhibitors can result in a chronic cough, skin rash, and kidney damage, while the similar angiotensin-receptor blockers may cause dizziness, flu symptoms, and fatigue. Knowing the side effects of blood pressure drugs may help patients choose the one they think would be best for them.
One class of medication for treating blood pressure issues includes beta blockers, which may slow down the heart rate while lowering the blood pressure. Some potentially dangerous side effects of blood pressure drugs like these include depression, asthma, and heart failure. There are other side effects that may be less serious, but which are bothersome to patients, such as erectile dysfunction, confusion, insomnia, and extremities that are constantly cold.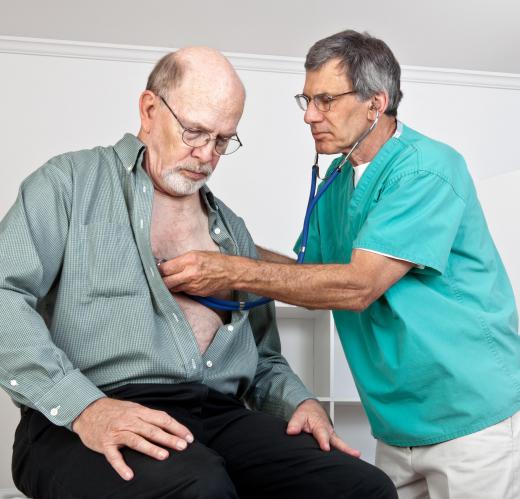 Calcium channel blockers can cause heart palpitations, as well as make the symptoms of congestive heart failure worse than usual. For this reason, those with heart issues should relay any concerns to their doctor before taking this medication. Both constipation and swelling in the feet and lower legs may also result. Finally, side effects of blood pressure drugs like these may also include dizziness and headaches.
Another type of drug used for high blood pressure treatment includes diuretics, which cause frequent urination by nature since they are supposed to reduce fluid in the blood. Unfortunately, patients also often lose potassium while urinating excessively due to this drug, resulting in symptoms of low potassium. These include leg cramps, fatigue, and overall weakness, and the best way to avoid these unfortunate side effects of blood pressure drugs is to take a potassium supplement. Additional potential side effects include gout and an increase in blood sugar in patients with diabetes, though these negative effects are usually rare.
Still other side effects of blood pressure drugs are caused by ACE inhibitors, such as decreased taste, a skin rash, and a chronic cough. Kidney damage is a possible negative effect, though it is quite rare. Angiotensin-receptor blockers are also sometimes used for hypertension treatment, and can result in dizziness. Finally, centrally acting agents may lead to bothersome side effects that include depression and drowsiness.


By: AVAVA

Someone who experiences sudden periods of dizziness after taking heart medications should see a doctor.

By: beerkoff

Used to treat high blood pressure, beta blockers may lower heart rate.

By: forestpath

Beta blockers can cause an extremely slow heart rate.

By: Rido

Although diuretics are effective in treating high blood pressure, they may also cause low potassium in patients.