What Are the Potential Cosmetic Surgery Complications?
Cosmetic surgery is a broad term that describes a number of procedures used to either enhance the appearance or correct a physical abnormality. Although medical advancements and increased safety measures have lowered the chance of negative side effects, complications are still possible. Some potential cosmetic surgery complications can be linked to the general risks of surgical procedures, such as allergic reactions to an anesthetic, extreme blood loss or clotting, and infection. Other complications may be specific to the operation performed, like seroma, which is a pocket of clear fluid that can collect under the skin after liposuction or breast augmentation procedures.
Many of the most common cosmetic surgery complications are not necessarily due to the types of procedures being done, but are instead a result of general surgical risks. For example, some may experience a negative reaction to sedation or anesthesia. These reactions can include temporary paralysis, heart attack or abnormal heart rhythm, stroke or brain damage, airway obstruction, or even death.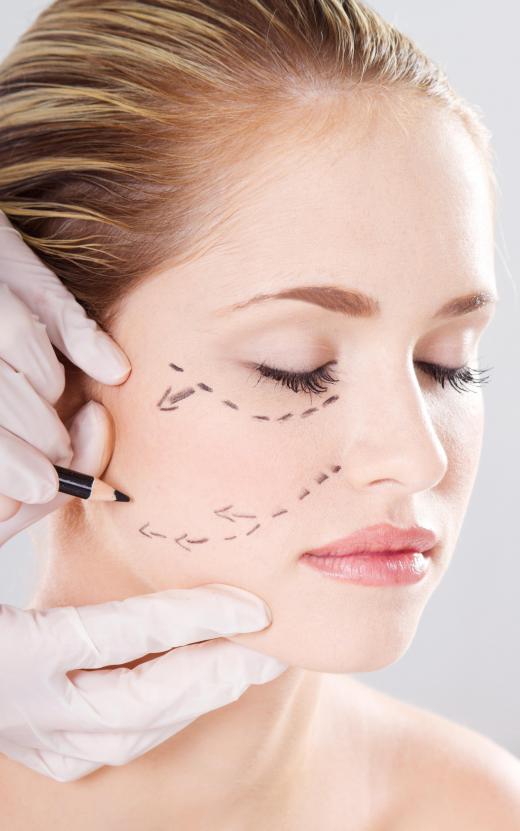 Other surgery-specific complications can include blood-related issues such as blood clots, excessive bleeding, or a drastic drop in blood pressure. Infection, loose sutures, and aspiration, or the inhalation of foreign materials such as vomit or mucus, are also serious complications. Some of the relatively minor cosmetic surgery complications can include bruising, light scarring, numbness, or discomfort.
Though some cosmetic surgery complications can be uncomfortable or potentially life-threatening, others may be physically minor but emotionally, or even financially, draining. Dimpling, asymmetries, and puckering are usually the result of surgical error, and may require corrective operations. More serious complications can include excessive scarring, a permanent loss of sensation in the areas operated on, and necrosis.
Some cosmetic surgery complications are directly related to the procedure performed. For instance, those who undergo a facelift may notice of loss of feeling or muscle control in the face, while those who have had a rhinoplasty may develop small red spots on the nose due to burst blood vessels. Liposuction and breast reduction can sometimes result in excess or baggy skin and fluid retention, while breast augmentation and lifts can cause a loss of sensation in the nipples and breasts.
Although less invasive, procedures that involve chemicals or lasers come with their own set of risks. Chemical peels can cause allergic reactions and permanent skin lightening. Laser resurfacing may also sometimes lead to a change in skin pigmentation, as well as sun sensitivity and scarring.
AS FEATURED ON:
AS FEATURED ON:






By: michaeljung

Cosmetic surgery is often performed to improve a patient's appearance.

By: Monkey Business

Infection is a common complication associated with surgery, including cosmetic surgery.

By: mkrberlin

Less invasive procedures that involve lasers come with their own set of risks.