What are the Different Types of Trucking Employment?
Jobs in the trucking business often are in high demand. With the proper training and experience, a person may enter into several different career paths in the trucking industry. People who have attended an accredited commercial driver's license (CDL) program, currently have a CDL, or have some type of trucking background often are hired quickly by trucking companies. Other qualifications that may be required are trucking experience, a clean driving record, and no criminal history. Some of the different types of trucking employment include company truck driver, owner-operator, and trucking dispatcher.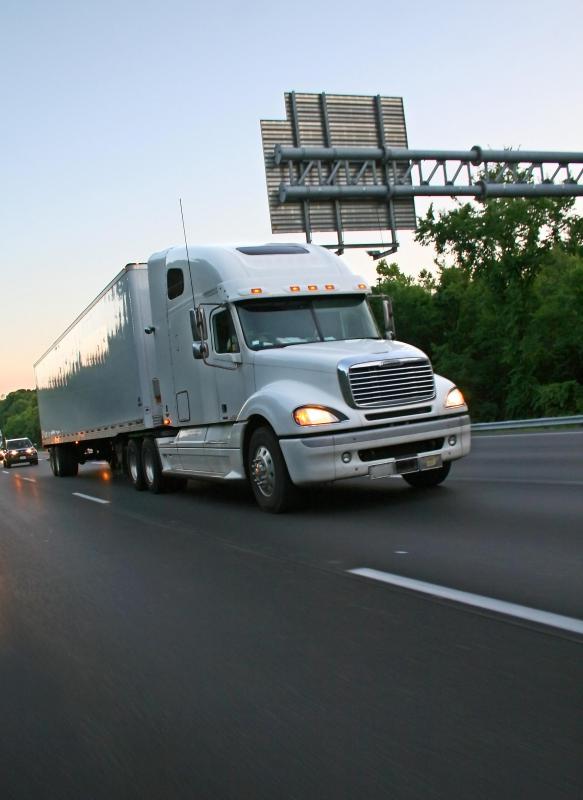 Most entry-level applicants begin their trucking careers as a company truck driver. This type of trucking employment often requires the drivers to transport and deliver different type of cargo or materials to different locations. Basically, there are two types of company truck drivers: over-the-road drivers and local-route drivers. A majority of the over-the-road drivers do long hauling which requires them to travel long distances for several weeks at a time. Local-route drivers normally only make deliveries within their local area, which allows them to return home on a nightly basis.
An owner-operator is a self-employed trucker who owns or leases his own truck. He performs the same duties as a company truck driver but has more responsibilities. Many of these truckers started out in the trucking industry as a company driver. Once they gain enough experience and knowledge about the business, they often feel more confident to branch out on their own. The owner-operator is responsible for all of his business transactions, from generating new business to tracking all business expenses such as fuel and truck repairs.
Another type of trucking employment is a trucking dispatcher. The primary role if a dispatcher is to keep track of all customer requests for freight delivery and pickup, and to coordinate these jobs with the truck driver. Even though this is an office-based position, dispatchers often play an important role in the success of all deliveries by coordinating each one. They may assist with any administrative work that needs to be done on behalf of the company, as well.
Working in the trucking industry can have many advantages. With the proper training, a person could enter this industry within three to four weeks after training has been completed. Whether the person is new or has some trucking experience, the right trucking employment typically can be found by working hard toward that goal.
Local-route drivers normally only make deliveries within their local area, which allows them to return home on a nightly basis.

Long-haul truck drivers often travel for several hours or days, covering great distances between pick-ups and deliveries.