What are the Different Truck Operator Jobs?
Various truck operator jobs include long-haul jobs, pick-up and delivery jobs, specialized trucking jobs, transporting hazardous materials and the position of owner/operator. The terms of employment can vary for each of these options. For example, people who have truck operator jobs can be either employees of companies or independent contractors. The amount of travel and the type of training required can also vary.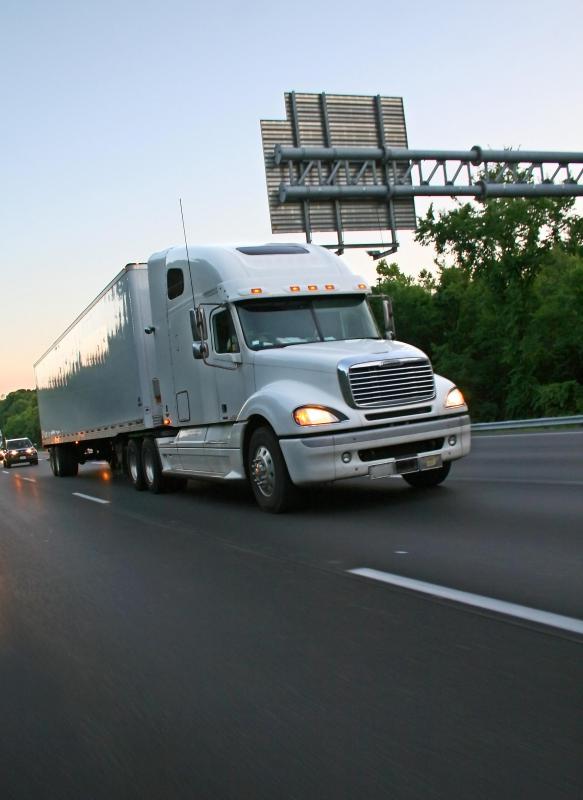 Pick-up and delivery drivers tend to focus on a local or regional territory. These jobs can require more contact with clients or customers, so some sales skills might be required. Pick-up and delivery drivers operate heavy, medium or light trucks, depending on the company. Overnight trips are generally not required.
One of the most common types of truck operator jobs is known as long haul or over the road. These drivers operate heavy trucks and generally travel about 500 miles (805 km) per day. As a result, being able to drive for long periods of time is required.
Some overnight or extended travel is also usually required of long-haul truckers. Some long-haul truckers are away from home for several days at a time or longer. This amount of time spent away from home is why these truckers sometimes work in teams, including husband-and-wife teams.
Specialized trucking is another option. This truck operator job requires driving specialized trucks designed to transport over-sized or fragile loads. Auto carriers, double or triple trailers and other over-size loads are just a few examples of specialized trucking. In some cases, special permits are required for these kinds of truck operator jobs.
Some truck operator jobs require transporting hazardous materials. In these truck operator jobs, the driver must understand what he or she is hauling so that it can be handled safely. Hazardous materials drivers must also know what to do in case of an accident or an emergency. Additional certification to handle hazardous materials is typically required.
Landing a truck operator job requires meeting all vehicle licensing requirements and passing a test. Countries usually have various safety regulations that must be followed. Many individual companies also have their own rules.
Truck operator jobs can have physical requirements, as well. Any diseases or conditions that can interfere with safe driving are likely to rule out a candidate. Vision and hearing tests can also be required.
When first starting out, it is wise for one to work as a salaried driver. Independent contractor jobs are also available for truckers, but these positions might not provide steady work. Drivers who work as independent contractors are not considered employees, and as a result, they do not usually have a guarantee of full-time work, paid vacation time, healthcare benefits or other perks.
Beginning truckers would be wise to look for positions that provide drivers with trucks to use, rather than requiring them to lease or buy their own equipment. After they become established, some truck drivers decide to branch out and start their own businesses. Starting a business will require buying or leasing trucks and other equipment, which can be costly.
Long-haul trucking is a common type of truck driving.

Independent truck drivers usually own their own trucks.

Diseases or conditions that interfere with safe driving will likely disqualify a trucking job candidate.