What Are the Different Types of Sugar Free Gift Ideas?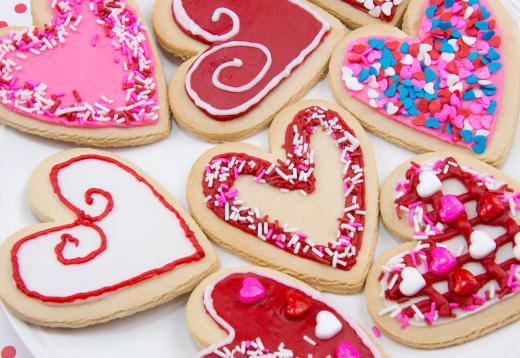 Sugar free gift ideas include a box of chocolates or attractive jar of candy made with artificial sweeteners or a basket of assorted products. A basket of fresh fruit will contain the natural sugar fructose, but not the refined version. Sugar free candy or other products could be given along with non-food items such as clothing, books or decorative accessories as a gift for diabetics on many different occasions such as Mother's Day, Father's Day, birthdays or for a get well or thank you present. Another kind of sugar free gift could be one based on a theme such as baking or pampering.
Pampering gifts for either males or females are best when geared to the season or weather. Skin lotions, foot creams and other pampering products in light scents such as cucumber are ideal for spring or summer, while richer or spicier aromas are often better for fall or winter. Gift ideas for food products to add to pampering baskets that may contain beauty products or comfy slippers could be tins of sugar free cocoa or non-sugar candies placed in little bags tied with ribbon. Other edible sugar free gift ideas to include in pampering themed baskets are no-sugar added cookies or popcorn.
A sugar free baking gift basket could include artificial sweeteners in canisters or bags as well as a cookbook with recipes for baked goods using these products. Including sugar free versions of traditional baking items such as chocolate squares or syrup can also be a good idea. Attractive bakeware such as a stylish mixing bowl or cookie sheet as well as colorful pot holders can round out baking types of sugar free gift ideas.
A book on a topic of interest to the recipient given along with a few sugar free treats can make a welcome gift for people who enjoying reading. Smaller sugar free gift ideas such as packages of cookies or candies can also be included with a robe, t-shirt or other piece of clothing in the recipient's size. A basket of fruit is a classic, naturally sugar free gift for a person recovering from surgery or who is in the hospital. A cute idea for making gifts made up of separate items to look more cohesive is to try to stick to a main color for all the pieces. For example, a sugar free Valentine's gift package could include a red box of non-sugar chocolates and a nightgown or robe in a matching color.


By: Globalphotogroup

Sugar-free cookies make a good holiday gift.

By: Natalia Klenova

Red roses are one of the most popular Valentine's Day gifts, but can be given year-around.