How Do I Choose the Best Sugar Free Chocolates?
It's usually best to taste individual samples or small packages of sugar free chocolates before buying a large package of the candy. Some sugar free chocolate products are delicious, as they taste very much the same as their regular, sugary counterparts, while some others can have an unpleasant aftertaste. Whether they are for yourself or for gifts, buying quality sugar free chocolates is important. Many well-known chocolate manufactures carry a sugar free line of products in addition to their regular products made with sugar.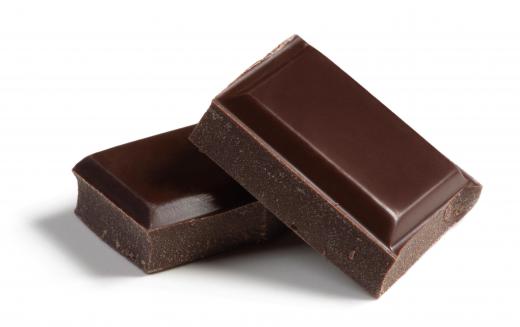 If a chocolate manufacturer has a store in the mall that sells candy by the individual piece as well as the box, it may have a section for sugar free products. If you buy one sugar free chocolate piece of a few different types, and taste these, then you can purchase a box knowing that your money won't be wasted on a treat that doesn't taste good. Plus, once you've discovered the best sugar free chocolates, you'll then have a gift idea for diabetics or dieters on your list.
A healthy alternative to buying packaged sugar free chocolate candy for household use is to buy the unsweetened baking type as well as a non-sugar sweetener recommended for baking. You can then make your own hand-rolled, sugar free chocolates as well as cookies, bars and other baked goods. Baking chocolate is the type richest in flavonoids which may have beneficial effects on blood vessels to help lower cardiovascular disease. Dark chocolate is the second highest in flavonoids, with milk varieties having less of the substance. White chocolate has no flavonoids, but can make a good color contrast by providing a light color against the darker brown of regular chocolate when making sugar free candy.
Remember to consider the ingredients when looking for the best non-sugar chocolates. Many manufacturers use an artificial sweetener, maltitol, which is a favorite for sugar free chocolate lovers because it can make the candy taste delicious. The problem is that if too much is consumed at once, maltitol may have a laxative effect. If you're looking for the best chocolates without sugar for a low-calorie alternative to regular chocolate, check the fat content on the package. Some sugar free boxed, bag or bulk chocolates may not be any lower in fat, and may even be higher, than the regular, sugary versions.


By: Fotoschuh

Many different types of chocolates can be made sugar free.

By: Andris T

Squares of unsweetened baking chocolate.

By: Rozmarina

Baking chocolate can be mixed with a non-sugar sweetener to make sugar free chocolates.