What Are the Different Types of Online Advertising Programs?
Advertisers can take advantage of various online advertising programs to tailor promotions of products and services to consumers, which can help the ads be more effective. Online advertising programs include using search engines, ads within webpages, and banner ads. Other forms are online classifieds and business listings, email marketing and affiliate marketing. Social media and mobile marketing are other important advertising programs.
One type of online advertising program consists of using Search Engine Results Page (SERP) contextual ads. In this type of advertising, paid ads are displayed prominently along with the organic search results. The ads the search engine chooses to display matches the search text, and so the advertisers expect users to be interested in the advertised site, product or service.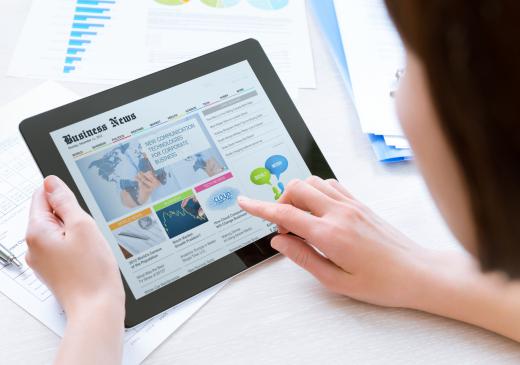 Another program also uses contextual advertising by means of linking certain words within a page's text to an advertiser. These programs may be used on either websites or blogs. The user may be interested in these advertisers because they often relate to the content the user is viewing.
Banner ads are another common online advertising program. The website that displays the ads may contract with an advertising service that arranges to display the ads. The service then tracks and pays for performance of the ads. Banner ads will likely be most effective when they relate to the website's topics.
Many small businesses and individuals use online classified ads, which evolved from traditional newspaper classified ads. Advertisers may also wish to list their businesses in online directories. These ads and listings are frequently free or low cost to place.
Email marketing is a popular online advertising program. When used with opt-in lists, the audience has chosen to receive the email, and so they have indicated interest in the organization. Email newsletters should offer information of value to the reader, or the reader may consider it spam, even if she chose to opt-in.
With affiliate online advertising programs, affiliates take on the work of promoting the advertiser's products or services. Affiliates may use websites, blogs or other methods in their efforts. The affiliates earns revenue when users visit their websites or blogs, select to link to advertisers, and make purchases.
Businesses can use appropriate social media networks to interact with consumers. This form of Internet advertising may be more subtle that some other programs. It may focus on establishing branding and developing relationships with consumers.
Mobile media online advertising programs make up another option. With mobile media marketing, the user may appreciate ads that are served in context to her location. As an example, a user may enjoy seeing dining specials as she is traveling to a restaurant.
AS FEATURED ON:
AS FEATURED ON:






By: bloomua

Online advertising may be displayed on a tablet computer.

By: Frank Boston

Online newspaper advertising costs are often set according to how many visits the website has per day.