What Are the Different Types of Newspaper Advertising Jobs?
Newspapers, both print and online versions, are usually funded by advertising dollars. It takes a number of people, working in several different positions, to facilitate the process of soliciting and inserting these ads. Newspaper advertising jobs include sales, design, accounting and layout. For electronic newspapers, jobs also can include positions as web designers and programmers.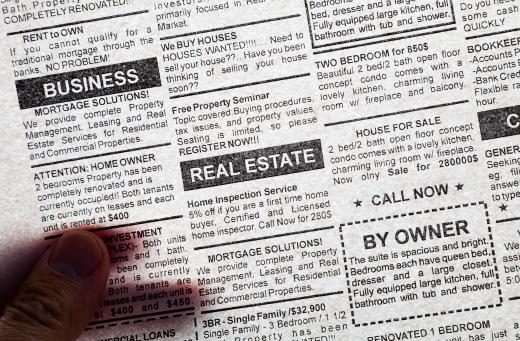 One of the most common and necessary newspaper advertising jobs is in sales. Making sales is the first step in obtaining advertisers. Advertising sales representatives often contact potential advertisers via phone or email and in person. They contact local and national businesses that are looking to reach potential customers through advertisements in the newspaper.
A newspaper ad salesperson is responsible for generating leads, presenting advertising package options to potential advertisers and closing deals with the advertiser. This can include selling a single ad insertion or developing a plan for a series of insertions. It also usually includes signing contracts and turning them in to the appropriate department at the newspaper.
Another of the critical newspaper advertising jobs is design. Graphic designers are often available to create ads for customers, sometimes as a free service for purchasing advertising and sometimes for an additional fee. These designers can create an ad that is visually appealing and includes the name and logo of the customer. A copywriter also might be involved in developing messaging for the ad. When the ads are going to be placed online, a designer capable of creating web-enabled ads also may be involved.
Other professionals also hold newspaper advertising jobs. Accounting professionals are responsible for billing advertisers according to contract. They also are generally involved in setting ad rates so the newspaper collects enough money to cover expenses without charging more than customers are willing to pay. Marketing professionals develop newspaper ads that are, somewhat ironically, aimed at selling advertising space in the newspaper. Production artists are responsible for laying out the pages of the newspaper so the stories, pictures and advertisements fit.
When many people think of newspaper advertising jobs, they think of those involved with traditional display ads. Classified ads are text ads placed in a special advertising section of the paper. These are usually placed by individual people, mostly those attempting to sell items such as cars or a home.
These ads also require sales staff, though classified ad reps usually take incoming calls from potential advertisers rather than trying to contact potential customers. Classified ads also must be billed and must have a rate sheet, both functions of an accounting professional. The ads must be positioned for print, as well.


By: by-studio

Newspapers are generally funded by advertising dollars.

By: Feng Yu

Classified ad representatives take calls from people wishing to put an ad in a newspaper.

By: Frank Boston

Online newspaper advertising costs are often set according to how many visits the website has per day.

By: Petoo

Graphic designers often create the ads that readers will see in the newspaper.