What are the Different Types of Natural Anti-Aging Products?
There are many natural anti-aging products available, as well as many things to do to prevent premature aging and make one look younger. Proven natural anti-aging products will include key ingredients such as vitamins C, E and A as well as essential oils, shea butter and omega-3 fatty acids, to name a few. Although there are multiple natural anti-aging products, incorporating a healthy skin care regimen and proper diet are vital in preventing premature aging.
Dry skin, wrinkles, acne and inflammation of the skin are all indicators of poor health. As technology has advanced, there have been many anti-aging creams and serums developed that boast anti-aging skin care products that reverse aging and improve appearance. Many of these anti-aging products include synthetic chemicals that can be harmful to your skin and body. When choosing anti-aging skin care products, be sure that the natural ingredients such as minerals, vitamins and oils show up first on the ingredients list, because this is a strong indicator that there are significant, effective concentrations in the product.
Vitamin C, or ascorbic acid, is an antioxidant that reduces free radical damage such as harmful ultraviolet (UV) rays from the sun. It is known to reduce fine lines and improve collagen, which gives skin its resiliency. Vitamin E, or tocopherol, when used in its natural, high-potency form, has healing properties. It is useful in softening the skin and diminishing scars.
Vitamin A has many forms that include retinol, tretinoin and retinyl palmitate. When added in correct concentrations, these forms of vitamin A have proven to even skin tone, exfoliate and reduce wrinkles. Vitamin K has also been found in key natural anti-aging products and is known to even out skin tone and reduce dark circles.
Incorporating essential oils such as sandalwood, neroli and geranium is important in anti-aging skin care products, because they are proven to rejuvenate and restore skin. Shea butter is an excellent anti-aging moisturizer, and it increases skin's elasticity. It is found in many natural anti-aging products and is most beneficial in higher concentrations.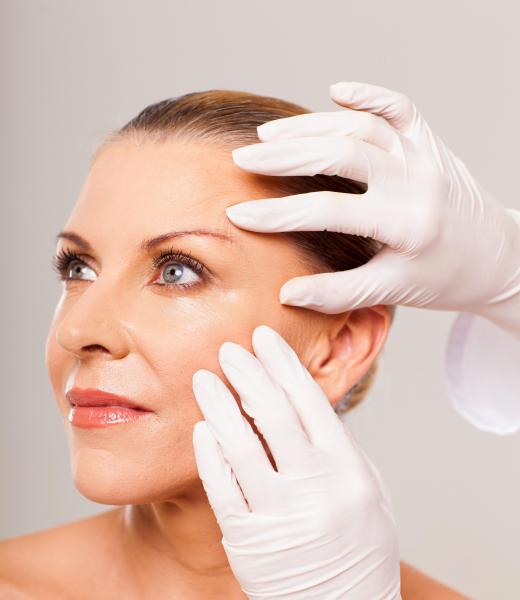 A diet rich in vitamins and minerals such as selenium, silica and omega-3 fatty acids, is also important to reverse aging. Consuming fewer processed foods and more raw vegetables, fruits, fish and nuts will help stave off skin's aging process. Regular exercise, using sunblock and wearing sunglasses while outdoors will also protect skin.
AS FEATURED ON:
AS FEATURED ON:






By: Alila

A diagram of younger and older skin showing the decrease in collagen in older skin. Anti-aging products are often designed to boost the production of collagen, helping to make the skin smoother.

By: picsfive

Natural anti-aging products contain ingredients such as shea butter, vitamin E, and minerals.

By: michaeljung

Retinol can help reduce wrinkles and shrink pores.