What Are the Different Types of Lip Gloss Sets?
Lip gloss sets are typically available in pots, tubes and sticks. Some sets include cosmetics that are enriched with vitamins and moisturizers. In addition, there are hypoallergenic children's lip gloss sets that are created with gentle ingredients and scented flavors. Designer lip gloss sets may include those that are designed in a palette with several shades. Many palette sets come with a lip brush and applicator.
Major cosmetics companies often create palette lip gloss sets in a design resembling that of a folding compact with mirror. This type of set typically includes four or five different shades that offer a glossy shine. The various shades of lip gloss may be worn separately or layered.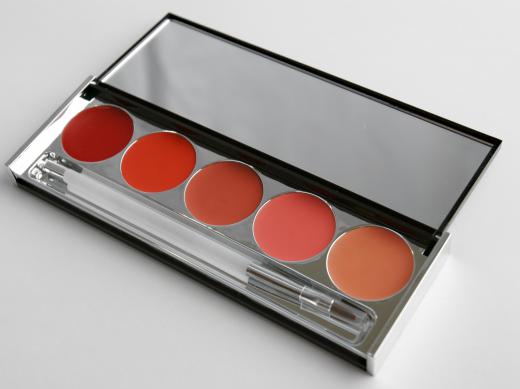 When creating lip gloss sets, most make-up manufacturers produce the product in one particular finish, such as high gloss shine. Some sets may be packaged as a sampler though. The sampler generally includes various shades of lip gloss in different textures or finishes. In addition to the high gloss finish, there may be a pearl finish, a glittering gloss or a sparkle. Each finish produces a different effect, such as glossy or matte.
The high-end or designer lip gloss sets may include a retractable lip brush. In addition, some lip gloss sets include other implements and cosmetics, such as eye color palettes and eyeliners. Cosmetic sets may also include a convenient travel case or pouch.
Liquid lip gloss is typically packaged in a transparent bottle with an applicator. Other types of lip gloss are those that come in squeezable plastic tubes. The lip gloss in tubes may be in liquid or creme formulas. Some of these products are formulated with a plumping agent to give lips a fuller appearance. Other sets come packaged with a lip primer that is applied underneath the gloss.
Moisturizing lip gloss is often infused with petroleum, aloe or vitamin E. Additionally, some lip gloss sets may also contain sunscreen. Although lip gloss may be considered fashion cosmetics, some are labeled as protective lip balm created to heal chapped lips.
Hypoallergenic lip gloss is less likely to irritate sensitive skin, and some of these products also are dermatologist tested. Many of the cosmetic sets that are made for children are specially formulated to be gentle. Children's cupcake lip gloss may be in a pot designed to look like a cupcake. Each container opens up to hold a flavored or scented lip gloss. Various flavors in a cupcake lip gloss set may include vanilla, cinnamon and jellybean.
AS FEATURED ON:
AS FEATURED ON:






By: Ganna Shapovalova

Some lip glosses come in sets of complementing colors.