What Are the Different Types of Hospitalist Jobs?
A hospitalist is a type of doctor who spends the majority of his or her working hours caring for patients in a hospital setting. There are many different types of hospitalist jobs, as just about every type of medical specialty is required in a hospital. Examples include internal medicine specialists, pediatricians, orthopedics, and psychiatrists. Hospitalists can work in many different parts of the medical facility, from emergency rooms psychiatric wards.
The majority of hospitalist jobs are found in the emergency ward, and most of those doctors are internists, or general practitioners. Patients come in with a myriad of conditions, from the common cold to broken bones. An internist can attend to most illnesses, but cases that are more complex may require a specific type of doctor. Severely broken bones, for example, generally require care by an orthopedist, especially when the mending the break requires surgery.
Hospitalist jobs for internists and other specialties are available in other areas of the hospital as well. Internists may work on medical-surgical floods, treating patients with conditions such as pneumonia or other types of serious infections. Psychiatric wards often have psychiatrist and psychologists on staff to treat patients and evaluate their mental status. Intensive care units, such as a neonatal unit for premature or ill babies, often have dedicated hospitalists on staff to attend to patients and monitor their conditions.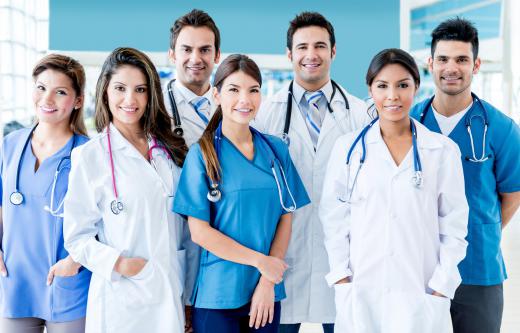 Typically, those with hospitalist jobs do not see patients outside the hospital setting, so they do not get to know their patients or their histories. Hospitalists treat acute, or short-term, conditions and refer patients back to their primary care physicians for follow-up treatment. It is very important that hospitalists provide as much information regarding the acute condition as possible so that the primary care physician can determine the best way to proceed in treatment.
There is expected to be an increased demand for hospitalist jobs for the foreseeable future, however there will likely also be increased competition for the positions. Many doctors are leaving private practice to work in hospitals because it decreases their overall expenses, allowing them to keep more of their income. Income varies depending on the volume of patients seen each week, but overall the pay is often better than that of working in a private practice.
Although most hospitalists work in paying positions within a large medical facility, some choose to dedicate a portion of their time to free clinics and other charitable organizations. Others may be involved with research teams to devise new treatments and medical procedures. Hospitalist jobs offer a wide arrange of opportunities, and the work is typically different each day because they see a variety of patients and cases.
AS FEATURED ON:
AS FEATURED ON:






By: Monkey Business

Hospitalists care for inpatients in hospitals and coordinate with referring physicians.

By: Andres Rodriguez

Hospitalists spend the bulk of their working hours caring for patients in hospital settings.

By: jovannig

Hospitalists work in large medical facilities as well as free clinics.