What are the Different Types of Home Flooring Ideas?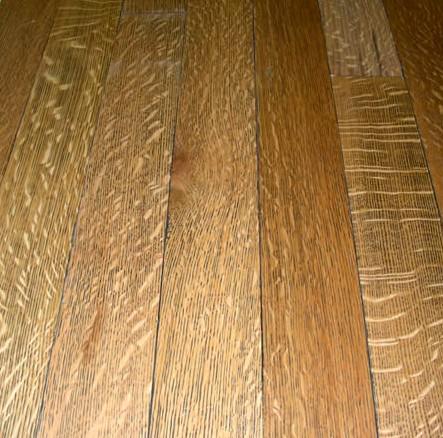 The atmosphere of a home is partially determined by furniture, appliances, window coverings, and wall decor. Just as important to creating ambiance is the material under one's feet. The style, feel, color, and texture of various flooring ideas help set mood and tone. Flooring ideas reflect the style and personality of the homeowner, and choices are available to suit most any taste and budget.
Hardwood flooring has experienced a massive resurgence. Hardwood is in demand due to its durability and the warm character it provides. A hardwood floor also enhances the resale value of a home. The hues of the different sophisticated woods range from the light tones of maple or birch to the dark and coloring of red oak, walnut, and black cherry. The downside of hardwood is that it can be very expensive.
Laminate is currently one of the most popular flooring ideas in the consumer market. It looks like hardwood, but is far less expensive than the authentic item. Maintenance of laminate flooring is simple, requiring little more than a mop or a broom. The production process of laminate flooring makes it highly resistant to scratches, scuffs, dings, and chips.
Carpeting was long favored over hardwood as a primary flooring idea. At one time little was available but hardwood, and carpeting provided a softy, cushiony alternative that was pleasing to the feet and the wallet. Carpet is still a standard floor covering, and is available in sheets or tiles. It requires regular maintenance, such as vacuuming and the occasional steam cleaning, but stain-resistant versions have eliminated the problem of permanent blotches from spilled food, excitable dogs, or a bottle or red wine.
Ceramic tiles offer flooring ideas that can be built around a motif. Southwestern architectural styles might utilize adobe-colored tiles to complement the feel of a room. Tile is the most waterproof type of flooring, but it chips, breaks, and scratches easily. On the positive side, it is suitable for indoor, outdoor, or even countertop use.
Linoleum and vinyl are often confused, but they are not the same thing. Vinyl can provide the look of tile, but at a fraction of the cost. It is easy to install, easy to clean, and is often a favorite for bathrooms and kitchens. Linoleum is made from natural substances — the primary ingredient in most linoleum is linseed oil — and is sold in rolls. Linoleum flooring is available in a wide variety of colors, and is usually similar to laminate in terms of cost.
Hardwood flooring.

The primary ingredient in linoleum is linseed oil.

Carpet requires occasional steam cleaning.

Sustainably harvested bamboo floors can be stained to achieve a lighter or darker appearance.

Wood floors can be cleaned with a vacuum.