What Are the Different Types of Fashion Marketing Jobs?
Those seeking careers in fashion generally will find that fashion marketing jobs combine design skills and business savvy. Working in marketing, these individuals work hard to promote various brands to consumers and often are employed in department stores or fashion boutiques, or even in areas of fashion publishing. While fashion marketing jobs are diverse, typical jobs include buyers, sales representatives, store managers, visual merchandisers and writers or editors.
Fashion buyers are the individuals responsible for selecting and coordinating apparel for stores. These individuals need to have an understanding of the target market of each store and search to find clothing and accessories that are appropriate for the boutique. In these fashion marketing jobs, professionals meet with department store managers to determine the needs of the shops and maintain close relationships with fashion writers, editors and designers. To work in this position, employers look for applicants with bachelor's degrees in either fashion design or fashion marketing and previous retail experience.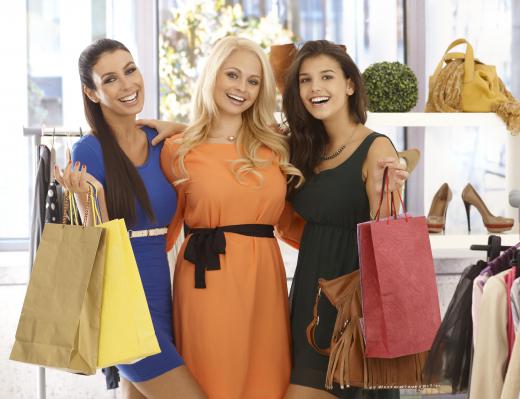 Sales representatives who sell specific products manufactured by a fashion company are included amongst those working in fashion marketing jobs as well. Typical duties include processing sales orders and making calls to retail stores to offer them product-line catalogs and samples. Employers usually seek candidates with either associate's or bachelor's degrees in marketing. Some employers may consider applicants who have a solid understanding of business management and sales techniques, however.
A manager of a retail store is responsible for monitoring the inventory of the store, training salespeople and approving the setup of the visual store displays. Some employers only require a high school diploma or General Education Development® (GED®) certificate with experience in retail, while others may require an associate's or bachelor's degree in either business management or fashion marketing. An experienced retail store manager often can move up to become a district sales manager or a fashion buyer.
Other fashion marketing jobs include visual merchandisers who coordinate store promotions and create artistic in-store retail displays, including displays of handbags, shoes, clothing and hats, for department stores and boutiques. They also help store managers create stylish and functional floor layouts that appeal to customers. Employers typically look for candidates with bachelor's degrees in fashion merchandising or fashion marketing. Other requirements may include a solid knowledge of visual display organization, fashion trends and retail sales.
In some cases, fashion marketing jobs include writers and editors who work for a variety of sources, including online fashion publications and print magazine companies. These professionals interview fashion designers, style muses, celebrities and stylists, among other high-profile individuals in the fashion world, to report news and stories to fashion lovers and consumers. They typically cover new trend projections as well as established and emerging brands.


By: Gordon Bussiek

Fashion merchandisers improve clothing displays.

By: Andrey Kiselev

Fashion buyers must understand the target market of each store.

By: nyul

Fashion marketing professionals work for upscale boutiques.

By: Wrangler

Some fashion marketing professionals work in writing jobs where they interview designers, celebrities and stylists.