What are the Different Types of Child Day Care Job?
There is more than one type of child day care job one can choose to pursue, each one pertaining to a different aged child or skill level. Most day care facilities offer care for children from infancy to preschool-aged, and teachers or caregivers in each classroom may require different skills or licensing. Most caregivers are required to receive certain training or ongoing lessons in specific aspects of care, and some must receive a college education before being allowed to work in a day care facility.
One common type of child day care job is that of infant care provider. This job does not typically require a college education, but some skills and training may be required. For instance, those who work with infants should be certified in life-saving techniques used on small children as well as in child safety standards. Workers should become familiar with all safety codes and standards required by the government. These may include where to put babies to sleep, how to lay them to sleep, and what toys or items may be used for specific purposes.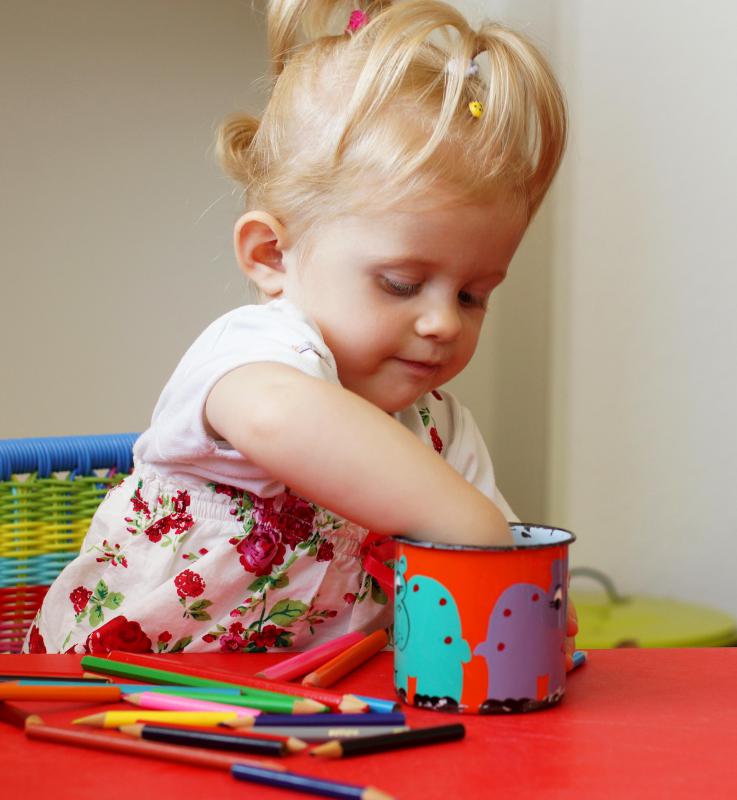 Teacher is another type of child day care job. Children from ages two or three and up generally must be taught by an educated and licensed teacher who has applicable credentials in early childhood educations. The amount of schooling needed may depend on location and age group, and may range from a certification program to a four-year college degree. Additionally, life-saving practices and safety regulations must also be learned by teachers and all other personnel working directly with children.
Another type of child day care job is that of food preparation, such as a cook. Many day cares have dozens of children to care for and feed, so a specialized individual must be available to prepare lunches, snacks, and dinners if children will be in the facility at those times of day. The amount of training or education required of these worker may vary, but many are unskilled workers.
Other jobs can include cleaning personnel, daycare director, and board members. The daycare director often acts as the manager or supervisor and is responsible for overseeing teachers and other team members to ensure their jobs are being done properly. He or she generally must have a college degree or equivalent experience in the field.
The highest level child day care job is board member. These men or women are generally found in church day cares in which a strict adherence to religious or denominational policies are required. They may also be the board members over the church, with additional duties involves the day care center.