What Are the Different Types of Carrot Baby Food?
Many pediatricians and infant nutritionists recommend carrots for a baby's introduction to foods other than milk. These veggies are packed with vitamins A and C, along with beta carotene and calcium. Carrots may also be high in nitrates, so parents should always speak to a doctor before starting an infant on carrot baby food. Once approved for consumption, though, parents may choose between plain carrot baby food or mixtures with spices and other fruits and vegetables added to them.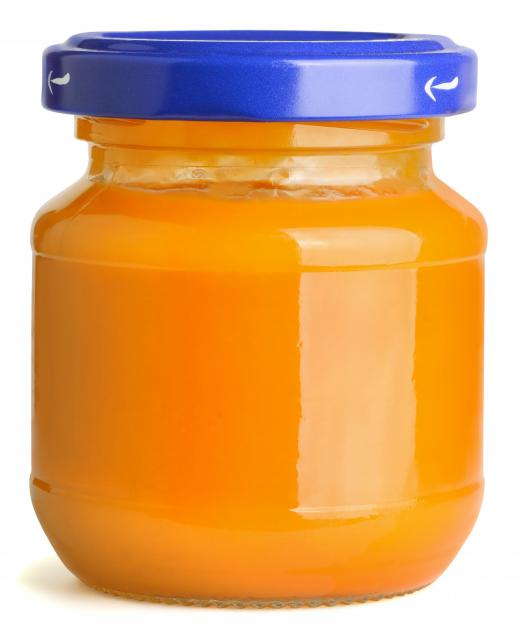 One of the first things parents must decide when choosing carrot baby food is whether to purchase it or make it themselves. Commercial baby food is often very closely monitored for quality control, so parents can almost always be certain it is safe to give to their babies. Homemade baby food should be made with care because some varieties of carrots should not be consumed by infants. Baby-cut carrots, for example, may contain chlorine or dyes to help them keep their color. Parents should typically choose adult carrots with brightly-colored flesh and leafy green tops instead.
Commercial carrot baby food usually only contains carrots, but some companies do produce carrot 'cocktail' mixtures. A few popular pairings include carrots with apples, pears, bananas, and sweet potatoes. It is important to know exactly what additional fruits or veggies are in the baby food because some infants might not be ready to digest certain foods. These dietary needs can be addressed with a doctor before parents weigh baby food options.
When making homemade carrot baby food, parents often have an endless supply of choices. Again, doctors should be consulted regarding what infants can eat at each stage of development. Once that is determined, though, parents can mingle carrot baby food with applesauce and cinnamon, silken tofu, steamed acorn squash, seeded summer squash, or peas. A dash of ginger, dill, or a sprinkling of chives may also be added to the mix. This may be a good way for parents to introduce their children to a variety of flavors and nutrients.
Carrot baby food made at home should start with steamed or boiled fruits and vegetables. They should typically be washed and peeled, chopped into small pieces, and cooked until very soft. Parents may then place them in a food processor or blender with the appropriate spices and blend them until they're very soft and runny. Extra carrot baby food may be frozen to keep it fresh, though it should be thawed and brought to room temperature before it is consumed.


Carrots.

By: Coprid

Carrot baby food.