What Are the Different Types of Advertising for Online Stores?
The form of advertising a company chooses often reflects the company's ethics, image, and values. In addition, advertising is directed at a company's target demographic, and must appear in places this group of consumers will see it. Advertising for online stores accomplishes this by providing information about companies and their products online, where potential consumers are likely to see it. Types of advertising for online stores might include banner ads, email advertising, and pop up ads. Alternately, advertising for online stores often takes the form of contextual ads on relevant websites and opt-in mailings.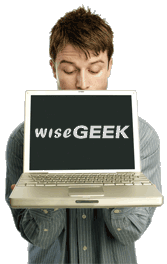 Given the number of companies online, competition can sometimes be very competitive. This means a company has to work hard to get its products and services in front of its target market. Banner ads accomplish this by providing advertising space in the form of a graphic banner on websites and blogs. This type of ad is eye-catching and can be placed in multiple places for maximum exposure.
Advertisements delivered via email might also be useful. This type of advertising for online stores might take the form of a small text ad within an email, a small graphic ad within an email, or an entire email dedicated to advertising the company's products and services. Online businesses should be careful to avoid spamming individuals with email advertising.
Popup ads are another form of advertising for online stores. When an individual is viewing a website, a new Internet browser window will appear, containing the online store's advertisement. Many individuals use popup blockers to avoid popups while browsing the Internet, so this might not be a good option when choosing advertising for online stores.
Some online retailers prefer contextual ads placed on relevant websites. These are ads that appear on websites that display advertising relevant to the content of the site. Many are attracted to this type of advertising as it might lead them to other products and services relevant to the content they already view.
Opt-in mailings might be more difficult to use, but they generally reach a more targeted audience. If an individual has made a purchase online or thinks he or she might in the future, he or she will likely sign up for future mailings to keep him or her apprised of new items, sales, and specials. Since recipients willingly signed up to receive this information, they may be more receptive to the store and the product offerings.