What Are the Different Types of 3D Paper Crafts?
There are several types of three-dimensional (3D) paper crafts that can be made at home. Origami and paper-maché are the main 3D paper crafts, but there are many other projects that involve paper folding or layering. Although origami usually does not require tape, glue or another fastener, other 3D paper crafts will require these supplies as well as scissors and paint, pens or markers for decoration. Many of these projects can become fun craft activities for kids, but projects involving utility knives should be heavily supervised by an adult.
Origami involves folding paper into 3D shapes, usually without the help of a fastener. This craft, which can be traced to before the 17th century in Japan, requires few supplies other than paper and a flat surface, making it one of the most ideal 3D paper crafts for kids. Tools such as tweezers, paperclips or creasing utensils are sometimes used for more intricate folding, but they aren't necessary for basic folds. Patterned origami paper is available at most craft stores, or individuals can simply cut standard paper into squares.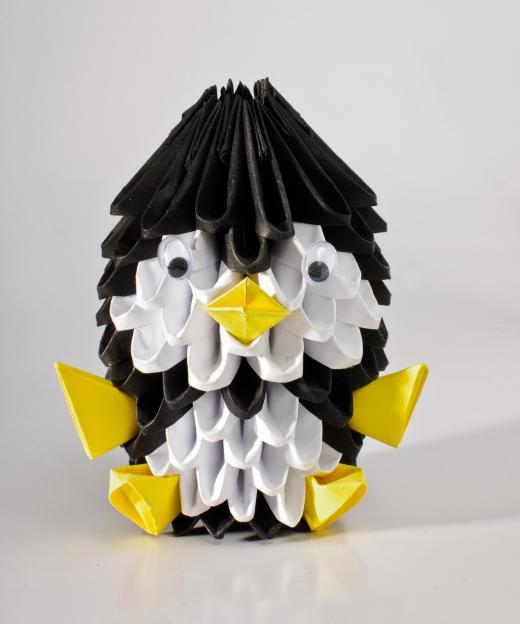 Paper-maché is another popular paper craft activity, and it features strips of thin paper dipped in a fastener and applied to a 3D surface. Generally, the fastener is made of water, starch and glue, and it is mixed in a large bowl that can accommodate the paper strips for soaking. Newspaper is the most common type of paper used, but other types can be used for different effects. Various molds, such as balloons, bottles or clay shapes, can provide structure for the paper as it hardens. The paper is soaked in the fastener, applied to the mold and left to slowly dry; if the mold was a balloon, then it can be popped to leave a hollow paper shell.
Other forms of sculpture or folding are also 3D paper crafts that can be made at home relatively easily. Paper flowers, which are usually made from tissue paper and pipe cleaners for the stems, are popular paper crafts for kids and can make good gifts or decorations. Homemade pop-up books can be made both for fun and for school projects. These involve a two-dimensional component, but they also require some engineering to successfully achieve the final 3D results.
Some other 3D paper crafts include folded paper airplanes and modified origami, which uses circular paper, paper money or a heavier focus on decoration, as in the case of fortune tellers. Professional paper art projects feature crease carvings done in relief, extensive layering of paper sheets and even paper clothing. Masks and wall art are also popular 3D crafts that are available for purchase at many art fairs.
AS FEATURED ON:
AS FEATURED ON:






By: amphotolt

3D paper crafts may include origami.

By: Sergey Mostovoy

Paper folding, decoupage and origami are among popular paper crafts.