What are the Different Social Worker Requirements?
There are several social worker requirements, regardless of the nature of the social work that one provides. A social worker career requires at least a bachelor's degree for entry-level work, and many positions require a master's degree as well. A license from a local, regional or national organization typically is required for one to be a social worker. In addition, a social worker needs to possess many strong personal qualities to ensure an affinity for the job, including sensitivity and maturity.
Most social worker requirements do not specify any particular college degree, though a bachelor's degree in social work is the preferred degree for those entering the field. Having a degree in sociology, psychology or related fields might be sufficient for some social workers as well. A number of positions for licensed clinical social workers or those in school or health settings will require a master's degree in social work. Some advanced positions will require an master's degree in social work with a concentration in administration or social services policy.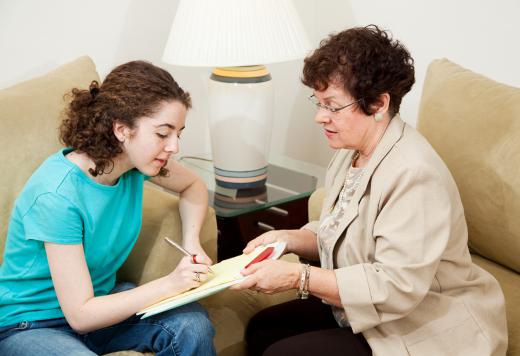 In the United States, each state and the District of Columbia has licensing, registration or certification as one of the social worker requirements. Similar requirements exist in many other countries. The specific requirements can vary from place to place, but in most places, about 3,000 hours or two years of supervised clinical experience are required in order to obtain a license. Any person interested in becoming a social worker should carefully review the licensing requirements where he or she lives or wants to work, in order to ensure that the requirements are met in full.
In addition to the educational and licensing social worker requirements, one needs to possess several strong personal qualities. An effective social worker needs the ability to work independently and develop positive working relationships with a variety of people. A social worker should be sensitive to people and their issues while maintaining objectivity. Emotional maturity and the ability to handle responsibility are essential, because social workers typically have a full plate of responsibilities and difficult circumstances through which they must guide people.
The majority of social workers are employed in social assistance or healthcare industries, with another large percentage working directly for government agencies. Social workers might work with a variety of clients, including children, the elderly, families and patients with mental health or substance abuse issues. Social worker requirements vary somewhat within each position, but a related degree, a proper license and strong character traits are common requirements of each social work job.
AS FEATURED ON:
AS FEATURED ON:






By: Lisa F. Young

A psychiatric social worker usually has an advanced degree in psychiatry.

By: Monkey Business

Most social worker requirements do not specify a particular college degree.