How do I get a Master's Degree in Social Work?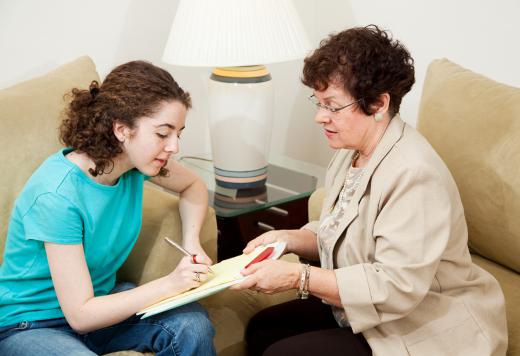 Earning a master's degree in social work (MSW) takes several years of education and training. The MSW gives people opportunities to become social workers for community agencies or facilities like hospitals, to begin careers as community organizers, or to work as psychotherapists, to name just a few options. Those considering this field usually must complete 3000 hours or more of supervised training after the degree in order to become a licensed clinical social worker (LCSW).
MSW programs typically look for several things from applicants. A bachelor's degree in social work isn't typically required, but students will need a bachelor's degree. Some programs require strong Graduate Record Examination (GRE) scores. Goods grades and letters of recommendation are definitely expected, but minimum grade point average depends on the program. Students should also take a statistics class in preparation.
Other desirable features exist for applicants to a master's degree in social work program. Programs often prefer students who have some form of previous social work experience, which can be gained in many ways. Students could volunteer for a variety of community agencies or they could work for pay in settings emphasizing social work values. Life experience that shows understanding of social work strategies and settings is useful and should be emphasized in any application essays.
When students consider master's degree in social work programs, they should think about areas of social work they may wish to enter. Some programs are concentrated in certain areas, and other offer multiple areas of focus. Schools that have specific focus areas may be less interested in students who don't express a genuine interest in that area. For some time, many programs expressed prejudice against people who completed a master's degree in social work in order to pursue a career in psychotherapy, and though this is less common now, applicants interested in this pursuit may not want to advertise it if they enter a program with a focus in something like community improvement or leadership.
Once people gain admission to schools offering a master's degree in social work, studies take a minimum of two years. They include significant coursework, several hundred hours of fieldwork, and many programs also require a master's thesis. Some schools have part-time programs that take about three years to complete. After a student has successfully met all requirements, she earns her MSW, but as previously mentioned, will need to complete several years of paid, supervised work plus examinations before being licensed to practice, though some jobs exist for the MSW.
An additional proviso for people interested in this degree concerns licensing. Licensing is regional, and if students plan to complete a degree in one region and work somewhere else, they should contact the licensing board in the region they plan to work. This should be done to verify that the MSW program in which they participate is one accepted by that region's board. Though licenses are often easily transferable from region to region, there can occasionally be additional regional requirements that a school in another region doesn't meet.


By: Lisa F. Young

A social worker working with a teen.