What are the Different Medical Receptionist Jobs?
Medical receptionist jobs vary based on the type of doctor's office in which a person is employed; for instance, someone working in a dentist's office might have different duties than someone employed in a larger, general practice office. In most cases, however, most medical receptionists have similar job duties in their everyday work. This might include answering phones, setting up or changing appointments, answering questions, greeting patients who come into the office, checking them in, and maintaining a neat, clean work environment and filing system. Some medical receptionists may also be responsible for calling patients back into exam rooms and getting them ready before the doctor comes in.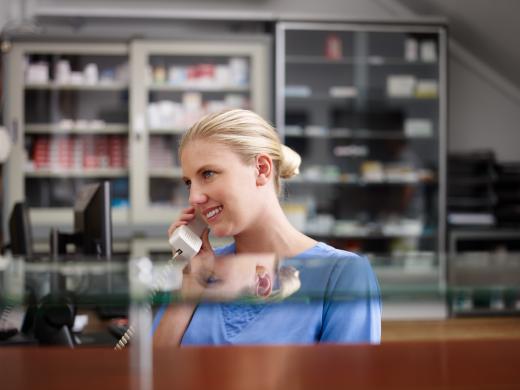 These are just a few of the possible medical receptionist jobs in a doctor's office. Depending on the size of the office, some medical receptionists may also be responsible for performing medical billing. This will involve a knowledge of different types of insurance and billing codes, as well as how to fill out forms properly so that patients are charged the correct amount for services, and reimbursed from their insurance companies when needed. Larger medical offices will often have separate medical billers and coders, but smaller offices will often just add that to the medical receptionist's job.
Medical receptionist jobs will also involve keeping patient records current and updated. This person will often be privy to a great deal of confidential information, and it is important for him or her to be discrete and respectful when talking with patients, or with anyone else in the office. For people who are looking for a career working in a medical office, there are a number of training and certificate programs such as for a medical administrative assistant certification, or medical billing and coding, all of which might make it easier to find one of the many medical receptionist jobs that are available.
Keep in mind that doctor's offices are not the only ones that might need medical receptionists. Hospitals or other larger medical centers will often hire a number of employees for different medical receptionist jobs, and may be easier places to get hired and get some experience. Anyone seeking medical receptionist jobs should enjoy working with people, and should function well in a busy working environment, possessing the ability to multi-task and stay organized, even with a lot of different information around.


By: contrastwerkstatt

A medical receptionist typically answers the phones and schedules appointments.

By: diego cervo

Medical receptionist jobs vary based on the type of doctor's office in which a person is employed.

By: Lisa F. Young

Medical receptionists are often responsible for greeting patients as they arrive for their appointments.