What are the Different Marketing Executive Jobs?
Marketing executive jobs can vary greatly from one industry to the next. Some people with these positions are in charge of corporate branding, public relations and advertising. Others spend their days networking and generating sales. Whether individuals are responsible for bolstering a company's image or selling products and services, successful executives are often one of the main driving forces of a prosperous company.
Some people thrive in an environment where they can work closely with clients and develop long-term business relationships. There are many marketing executive jobs geared toward these types of skill sets. In fact, sales and marketing titles are often used interchangeably. Professionals in these positions can usually earn lucrative salaries when commissions and bonuses are factored into compensation packages.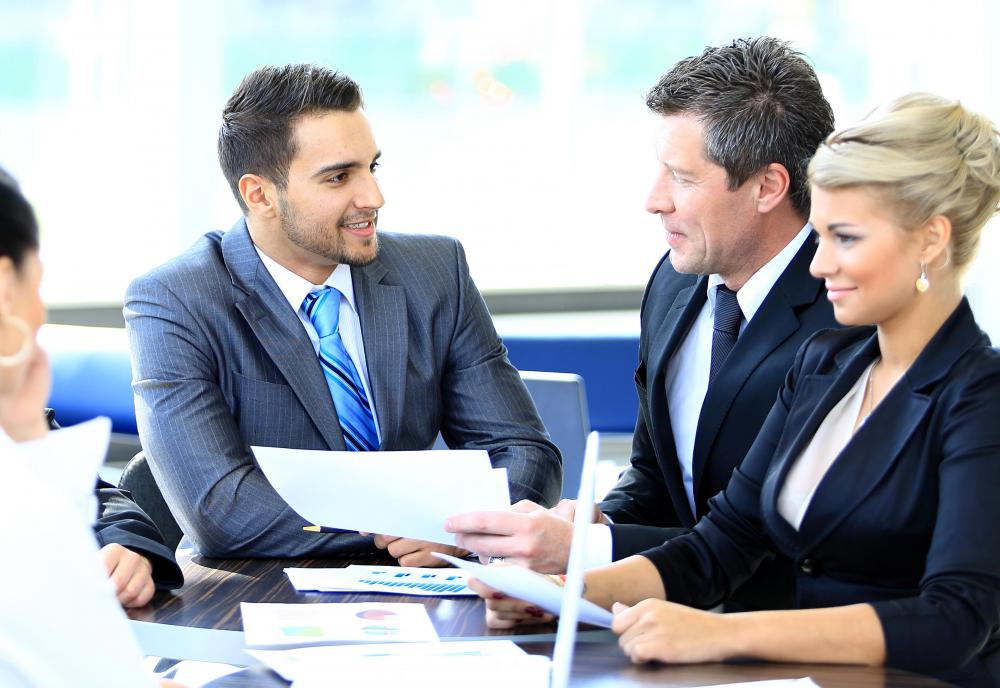 Employers may also hire these individuals to supervise other sales and account executives. These types of marketing executive jobs are often supervisory in nature. Executives may be responsible for setting sales goals and accompanying account managers to networking events and sales presentations. Their unique abilities to engage prospects and generate excitement about a product or service can open the door for salespeople to foster relationships.
Not all marketing executive jobs involve direct sales efforts. In some cases, these positions are offered to individuals with advertising and public relations backgrounds. Analyzing industry trends, writing press releases and developing a corporate brand and may be requirements for a person working in this position. The focus of these types of marketing executive jobs is to strengthen the image of the company and brand, which can ultimately increase revenue for the business.
Individuals who work in senior level positions are generally required to have exceptional communication skills. They are often involved in creative meetings to design brochures, promotional materials and print and television campaigns. Gaining positive attention and maximum exposure for a business is the primary goal for most people with marketing executive jobs.
Strategic plans to improve a corporation's exposure often entail extensive market research as well. Individuals may analyze the target demographics for a particular product by arranging focus groups and surveys. Data is then compiled in a meaningful way and presented to a corporation's board of directors of chief executive officer (CEO).
Experienced and successful people with marketing executive jobs can earn gratifying incomes. Sometimes, however, the compensation package is dependent on meeting high sales quotas. Most marketing people with executive positions have earned at minimum a bachelor's degree and many have several years of successful work experience as well.