What Are the Different Lip Treatments?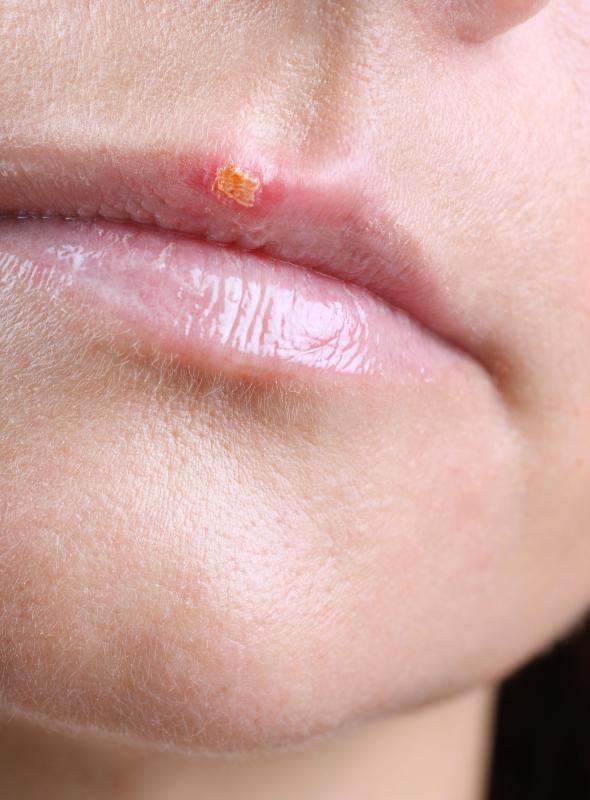 There are several types of lip treatments that can exfoliate, moisturize, or color the lips. Lip scrubs can help to remove dead skin cells from lips, and can be especially beneficial for those with dry or chapped lips. Balms and moisturizing treatments can help to keep lips smooth and soft, and some products can help to protect this delicate area from sun damage. Perhaps one of the most popular lip treatments is those that add color to the lips, whether in the form of lipsticks, stains, or glosses. For those who suffer from cold sores, medicated lip treatments can help to improve a person's comfort level and may increase healing times.
Lip scrubs are usually made from small granules mixed with a hydrating oil base. This type of lip treatment is applied in circular motions to the lips, helping to remove flaky skin and improve both the appearance and feel of one's lips. Once the product is worked into the lips, it is then rinsed off with cold water or wiped clean with a wet rag, and can be followed up with any number of lip treatments. As with most exfoliators, lip scrubs should typically only be used one to two times a week to prevent tearing the delicate skin of the lips.
Some of the most popular lip treatments are those that add moisture to the lips. These can come in a tube, tub, or squeeze tube, and can include any number of hydrating oils, waxes, or other moisturizing ingredients to replenish dry or chapped lips. Oftentimes, these types of treatments contain some amount of sun protection, which can help to protect lips from sun damage and dryness due to exposure. Some balms and lip moisturizers also contain a small amount of color, which can help to enhance the natural color of one's lips without drying them out.
Lipstick, stains, and glosses are some of the most popular lip products among women. They can provide lips with a sheer wash of color or give one's mouth a more dramatic look. Outside of providing color, some of these treatments have ingredients that are meant to stimulate the skin cells in the lips, temporarily plumping them for a fuller look. They can also come in a range of finishes, from matte to high gloss, and, depending on the formula, they may be moisturizing or long-wearing. Products like this can also be layered over one or more other lip treatments for varying looks and benefits.
Medicated treatments help to relieve some of the symptoms caused by overly dry lips or cold sores. Outside of moisturizing ingredients, these lip treatments typically contain medications that are meant to relieve pain and itchiness, both of which are often associated with severely dry lips or sores. For those suffering from the latter, there are also prescription lip treatments available to help to reduce the amount of time that it takes for a cold sore to heal.
A cold sore on a lip.

Some lipsticks contain moisturizers and sunscreens, which can help protect the lips.

Some lipsticks can make the lips look plumper.