What Are the Different Home Remedies for Frizzy Hair?
Most people suffer from the occasional bout of dry, frizzy hair. Washing it in hot water, the use of hair products that contain a lot of alcohol, and chemical processing can suck the moisture right out of the hair follicle. Mayonnaise and beer treatments are home remedies for frizzy hair that contain proteins that can help put the moisture back into stressed hair. These treatments are fairly inexpensive and easy to do.
Mayonnaise typically contains eggs and a type of cooking oil, which are loaded with proteins. There are two types of home remedies for frizzy hair that use mayonnaise. One makes use of store-bought mayonnaise. This method is usually quicker, as a person can simply apply the mayonnaise to his or her dry hair straight from the jar. The downside to this method is store-bought mayonnaise usually has a strong smell that may linger after the treatment.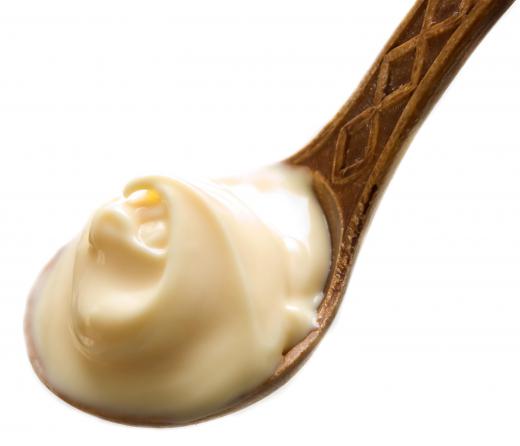 Some people do not like the odor left behind by a store-bought product. These folks can beat an egg and olive or vegetable oil together in a bowl with a hand-beater or stick-blender until the mixture becomes frothy. Doing this can also give hair the essential proteins found in commercial mayonnaise, without all the extra additives that create the smell of store-bought varieties. If an oil is not on hand, a person can substitute yogurt or mashed avocado. These home remedies for frizzy hair can take a little more time to prepare, but the odor left after the treatment is usually minimal.
Both of these home remedies for frizzy hair are applied the same way. The treatments should be applied to clean, dry hair and allowed to sit for at least 20 minutes before being rinsed out with cool water. The user can then shampoo using a gentle, moisturizing product. Cool water is generally better for hair than hot, and overuse of hot water can be one of the causes of frizzy hair. Sometimes simply switching water temperatures can help smooth the hair follicle.
Beer can also be a great way to add moisture to fizzy hair as it is made with sugars and proteins that can help reverse the damaged caused by chemical processing. Home remedies for frizzy hair that use beer usually work better with an ale or lager, because these types of beer have more protein than wheat beers. The beer should be flat before using it, so opening it up and allowing it to sit for an hour or two before the treatment is usually ideal. After shampooing, the entire bottle of beer should be poured over the hair and allowed to work for two minutes before rinsing with cool water. Using a conditioner after rinsing can help neutralize any lingering smell of alcohol.
AS FEATURED ON:
AS FEATURED ON:






By: Alexandra

Mayonnaise can be used to add moisture and shine to the hair.

By: Scott Griessel

Beer may help reverse the damage to hair caused by chemical processing.