What are the Different Hearing Aid Accessories?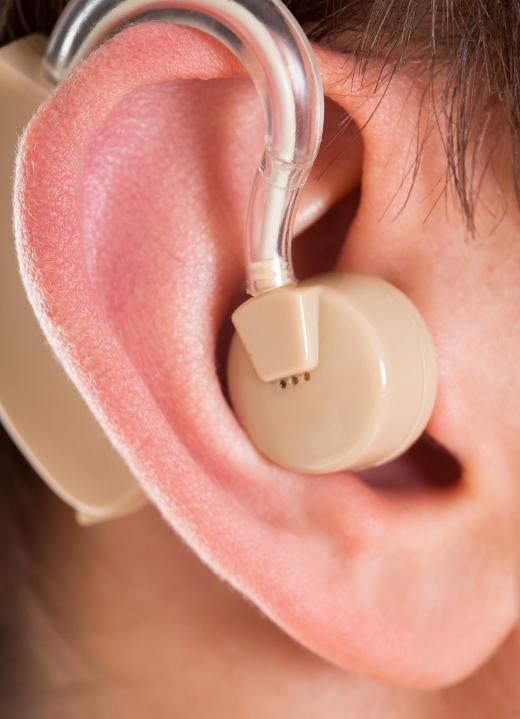 There are many different hearing aid accessories that can be used by adults as well as children. These accessories are designed not only for practical reasons, but also for fashion and specific activities. Hearing aid users can enjoy activities such as swimming and listening to digital audio players through the use of these different accessories. Some of the different hearing aid accessories available include hearing aid clips, ear protectors, dehumidifiers, and Bluetooth devices.
Hearing aid clips are colorful and different hearing aid accessories typically used by children. These clips feature many different designs such as ducks, rabbits, fish, dinosaurs, and dogs. Hearing aid clips are attached to the hearing aid at one end and the child's clothing at the other end. This type of accessory is not only fun for a child to play with, it also helps to keep their hearing aid from falling out or becoming lost. Soft spandex clips are available for adult use as well and come in a wide variety of colors.
Ear protectors are another one of the different hearing aid accessories that serve a dual purpose. These protective accessories are similar to the wide headbands worn by skiers and are most often used for swimming. Hearing aids can frequently become damaged by moisture from swimming as well as sweat. Ear protectors can be used for any type of activity that may cause a hearing device to come into contact with excessive amounts of moisture, dust, or dirt. Storage pouches are also available in many different shapes and colors to keep hearing aids clean and dry when not in use.
The internal parts of many hearing aids can sometimes become damaged due to moisture build-up over time. Dehumidifier accessories may be useful in preventing this type of moisture-related damage from occurring. After use, the hearing aid is placed in the dehumidifier in order to help remove unwanted moisture. This type of accessory is especially useful for swimmers, and people living in areas with high humidity or frequent rainfall. Dehumidifiers may help extend the life of hearing aids and avoid costly repairs or replacement.
Some of the more advanced digital hearing aids available today are able to connect wirelessly to certain devices such as cell phones, computers, and digital audio players that are Bluetooth enabled. Most of these accessories involve the user wearing some type of streaming apparatus that sends audio output from a Bluetooth enabled device directly to the hearing aid itself. These accessories can be quite expensive however, and may not be compatible with all hearing aids.


By: apops

Hearing aid accessories enhance the functionality of the device.

By: dotweb.dk

Hearing aid accessories are designed for practical reasons, and for fashion and specific activities.