What are the Different Hand Power Tools?
Hand tools are used in many crafts, pastimes, and occupations. A large number of hand power tools are found for use in the home or professional workshop. The term hand tool is used to apply to tools that are either used with the hands or tools, or more specifically, tools that are held in the hands and powered by employing mechanical power, rather than power from another source (such as electricity). Hand power tools include both powered versions of some hand tools that also have a version in which mechanical force alone is used, as well as some tools that have no counterpart that is not powered.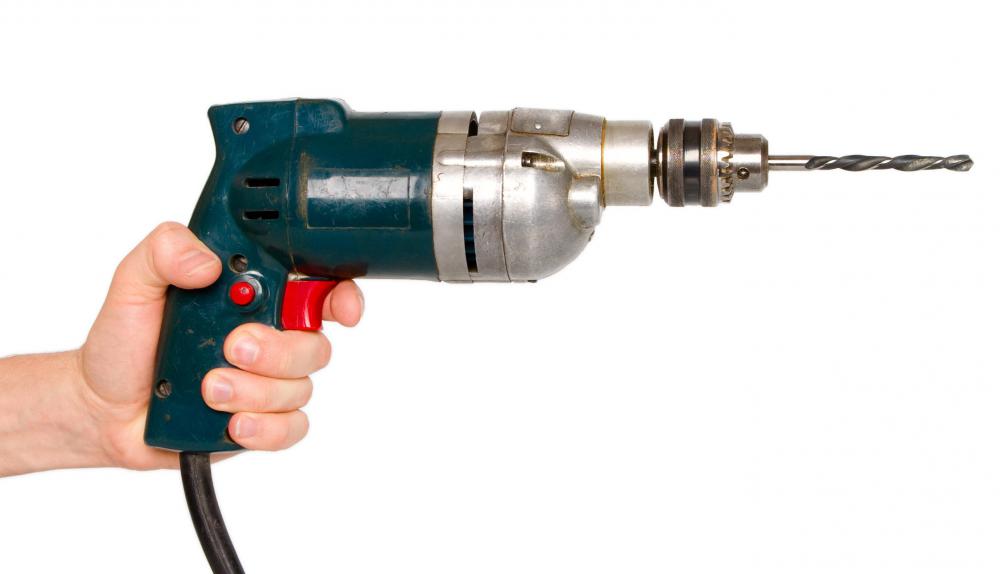 Power drills are an example of a hand tool that is made in both mechanical and power form. The power form has both cordless and plug-in models. Specialized types include the hammer drill, a rotary drill that has a hammer action, and screw guns, which are used for sheetrock installation. Right angle drills are made to work in close quarters. Similarly, power nailers and staplers replace the mechanical hand-held models. Nailers, or nail guns as they are also called, replace hammers for framing, putting up fencing, and other work, while powered staplers or staple guns are used for attaching a wide variety of materials, from roofing material, to carpeting to wiring, as well as upholstery and plastic the winterize buildings.
Anyone who has smoothed wood with a piece of sandpaper affixed to a wooden block will appreciate the hand power tools that can now be used instead. Belt sanders, disk sanders, detail sanders, random-orbit sanders, and sheet sanders, some equipped with a cloth dust bag or a vacuum attachment, make the job faster, easier, and allow for more precision, when needed. Most sanders plug in, but there are some cordless models.
Rotary tools, the interchangeable bits of which allow them to be used for a wide variety of purposes, are another type of hand power tool, and come in cordless and corded versions. Depending on which bit is chosen, a rotary tool can cut, carve, sand, polish, or grind. They are used for dog grooming, jewelry work, woodworking, electronics, etch glass, remove grout, clean off rust, and many other uses. Other hand power tools include shears for cutting everything from cement to hair, soldering irons and guns, planers, routers, saws, welders, torches, heat guns, glue guns, and paint strippers and other hot air tools.
By: Lilyana Vynogradova

Staple guns may be used on upholstery projects.

By: AlexOakenman

Electric drills may be used to push screws into wood surfaces.

By: gavran333

Power drills can accommodate a variety of different drill bits.

By: donatas1205

An orbital finishing sander is characterized by a rectangular head that can be fitted with standard sand paper sheets.

By: Konstantin Kulikov

Air wrenches are one type of hand power tool.

By: mavil

Chainsaws are used in a variety of applications.

By: luchschen_shutter

Often used in electronics repair, soldering irons are a type of power tool.