What are the Different Grant Writer Jobs?
In general, a grant writer develops written proposals and submits them to funders to obtain financial support for programs or projects. Grant writer jobs can vary according to several factors. For instance, someone with a grant writer job could be a staff member at a non-profit organization, an employee of a consulting firm, or a freelance grant writer. Often, he or she might specialize in a particular area of focus, such as the arts, education, or a specific type of charity.
Some of the qualifications for most grant writer careers include attention to detail, along with the ability to work well under pressure and to meet deadlines. Grant writer jobs also usually involve a significant amount of research. The writer must become familiar with the funding guidelines of the organizations from which he or she is seeking a grant. Examples of potential funders can include individuals, private foundations, and government agencies. The grant writer should also be aware of the particular funding priorities and make the proposal fit right into those objectives. Grant writer jobs generally require passionate, yet precise, writing skills.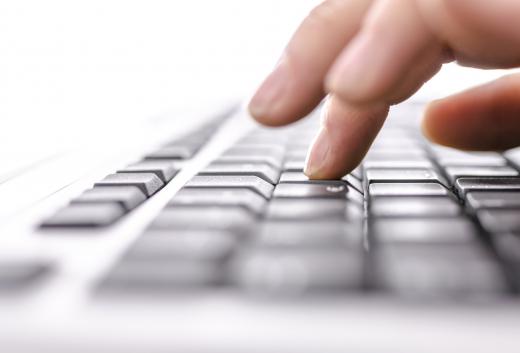 Additional grant writer duties typically include maintaining communication with funders, even after the proposal is submitted and the money is awarded, to ensure that all guidelines have been followed. During the evaluation period, the grant writer may need to send follow-up information to the individual or committee reviewing the application. He or she may also be asked to submit progress reports or final summations of a funded initiative.
Organizations that want to apply for grants often turn to a staff member for writing assistance, or they hire a consultant. Another option is to collaborate with a similar agency that has a writer on its staff, to agree to submit a joint funding proposal. Regarding consultants, there is some disagreement over whether an outside grant writer could fully understand a project enough to write a convincing proposal, as opposed to an employee of the program that is requesting the grant. At the same time, many agencies simply do not have the time or staff to dedicate to writing grant proposals, so they employ outside consultants for advice and writing services.
Salaries for grant writer jobs can vary depending on the positions. For instance, some organizations employ their own full-time grant writers or have a staff member whose job description might include writing grants. Consulting fees can differ between agencies, as well. Some consultants request a commission, or a percentage of the grant amount as their pay. This has become a rare practice for writers who might be reluctant to work on a contingency basis, however. Freelance writers can usually set their own rates, being paid either hourly or by the project. Rates tend to vary widely, according to factors such as geographical location, the experience of the writer, and the complexity of the proposals.
Many publications and online job boards advertise grant writer jobs. Being listed as a fundraising or non-profit consultant in a professional directory may also help someone find this work. There are numerous types of training options available for aspiring grant writers, such as online courses, local college programs, and on-the-job training. There are also books and other resources available to someone wanting to start his or her own freelance business.
AS FEATURED ON:
AS FEATURED ON:






By: Gajus

A grant writer is responsible for writing grant proposals.

By: Minerva Studio

Grant writers should be able to pay close attention to detail, and work well under deadlines.