How do I Choose the Best Proposal Center?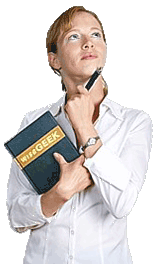 Creating well-written and compelling proposals can have a profound impact on an organization's operations. Proposal writing can be a time-consuming and labor-intensive process, so many organizations hire a full-time proposal writer or in-house staff person whose duties include proposal writing. An organization may also hire contract proposal writers for specific projects. A proposal center, or proposal generator, is a type of software that can help eliminate some of those costs. If you are evaluating potential proposal centers for your organization, you should select the option that is easiest to use, saves you and your staff members time and energy, and allows you to maintain quality while tailoring your text to each specific request for proposal (RFP).
First, determine if the proposal center is easy to use. If the individuals that use the proposal center find it difficult to use or poorly-designed, they are less likely to save time and energy while generating high-quality proposals. Many proposal center vendors offer software demonstrations and trial periods, which can help you evaluate usability. Involve key staff members that will use the proposal center most often.
Second, decide whether the proposal center replaces the qualities that an expert would bring to the process. Successful proposal writers use a few strategies which a proposal center should mimic. They create templates for common sections and develop style guides in order to adhere to each funding organization's proposal guidelines. Successful writers separate out blocks of text that address specific sections of RFPs in order to reuse those sections in other proposals. They also keep excellent records of each proposal, along with success rates, in order to improve future proposals.
An good proposal center will help you automate these types of tasks and strategies. One of the biggest advantages to investing in a proposal center over hiring contract proposal writers is that you shift all of these capabilities in-house. Even when you have a full-time proposal writer, by using a proposal center you are likely to free-up that expert's resources so that he or she can shift to a managerial role overseeing the entire process, instead of getting bogged down in trivial tasks, such as copying and moving files and sections of text or other content management tasks.
If you think you have a good handle on finding a good proposal center, consider one last key quality. The software should allow you to maintain quality and control over each document. Some automated programs restrict customization options. Since each proposal needs tweaking to meet the exact requirements of its RFP, it is important that the proposal center allow you to freely customize each document. This may include allowing collaborative writing with multiple contributors or other features that match well with your current process.


Woman holding a book