What are the Different Automotive Jobs?
There are a number of automotive jobs available for anyone who enjoys working with vehicles. The automotive industry has expanded tremendously over the years to give the world a vast collection of cars, trucks, sport utility vehicles and vans to choose from. Due to a constantly growing technology, along with numerous accommodations offered with every new vehicle, automotive jobs continue to grow as well.
Automotive jobs may range from auto technicians to auto mechanics, and from automotive engineers to designers. Each job is designed to specialize and master one area of the automotive field. Automotive jobs require training and schooling; however, the skills in this line of work seem largely to be mastered with hands-on training at the job itself.
In order to lengthen the life of the vehicle, all vehicles require maintenance on a regular basis, such as changing the oil. A lube and oil technician specializes in this area, and often works at an oil and lube garage that operates solely for this purpose. Other duties of an oil and lube technician may include changing windshield wipers, checking and changing various filters as needed, and checking the levels of fluids under the hood and filling them.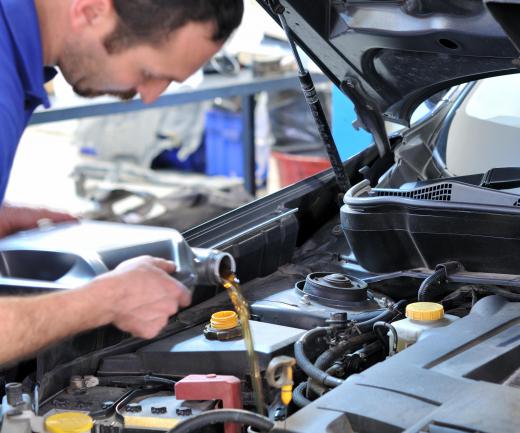 Automotive technicians know how to perform all the basic responsibilities of a lube and oil technician but are required to know more. They may be responsible for mounting and dismounting tires, balancing tires, and changing brake pads. They can also perform routine tune-ups on the vehicles.
Automotive mechanics can perform all the tasks of an automotive technician and more. Difficult repair jobs such as replacing shocks and struts, starters and alternators are all a part of the job responsibilities. A degree from an automotive school is usually required to apply for this type of job.
An auto body and paint specialist repairs the damage to the exterior of a vehicle. When a vehicle is involved in an accident and has exterior damage, the damaged parts are replaced or painted by an auto body and paint specialist. Their job is to repair the vehicle and make it look like it did before the accident occurred.
An automobile designer and engineer is among the highest paid position out of all the automotive jobs available. A designer and engineer designs the look of the vehicle from the inside to the outside. With the automotive industry always changing and always growing, with constant competition, a designer's job is never finished. New looks, new technologies and new luxury accommodations are always being created to impress the future buyer. Automobile designers and engineers often have Master's or even Doctorate degrees.
AS FEATURED ON:
AS FEATURED ON:






By: AdrianEugen

Automotive engineers are often tasked with making adjustments, such as changing a radiator system, between different model years of the same auto production line.

By: uwimages

Auto mechanics perform maintenance and repairs.

By: runzelkorn

Almost all automotive jobs require hands-on training or formal certification.

By: Nataliya Hora

The automotive industry includes an array of production and mechanical jobs.