What are the Different Alternative Energy Jobs? (with pictures)
Alternative energy jobs, often referred to as green collar jobs, are becoming far more prevalent in the wake of global realization regarding sustainable growth and climate change. Although alternative energy jobs may seem like fodder only for scientists and engineers, many careers can be oriented toward the creation, use, and promotion of green or alternative energy. As the world grows more and more aware of the growing need to build an environmentally friendly human habitat, alternative energy jobs may be on their way to becoming a major sector of the workforce.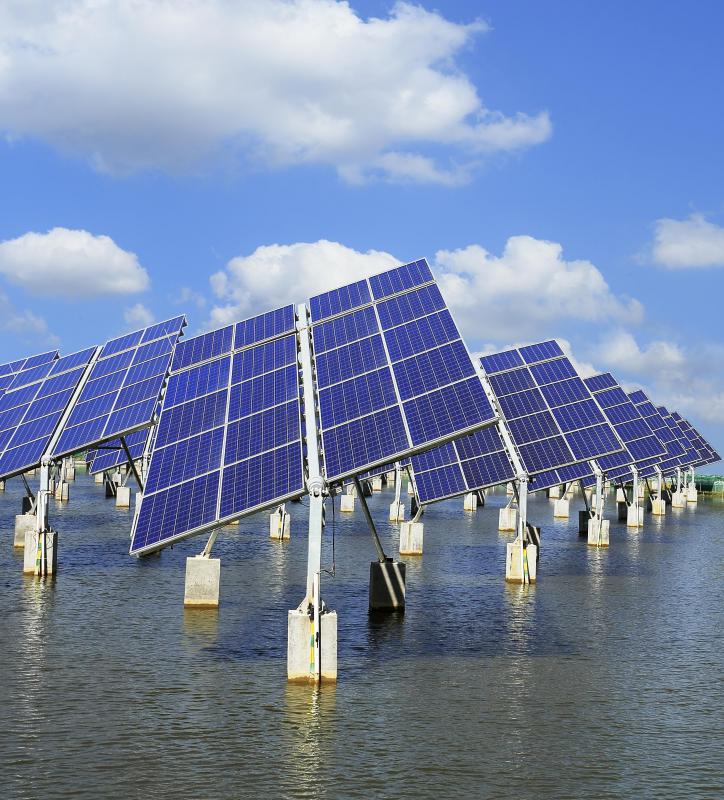 It may be difficult to believe that a background in business and marketing can lead to alternative energy jobs, but in fact skilled salespeople and business-oriented whiz kids are vital to growing the market for green energy. As new forms of alternative energy are perfected, sales and marketing teams become essential in swaying clients away from old-fashioned fossil fuels. In addition, people great at building businesses are crucial in the alternative energy field, as few business models or precedents exist for creating mass-producing green energy companies.
As it might be assumed, the world of alternative energy needs the brightest scientists that can be found. Research and development of new technologies is the backbone of spreading green energy, and new minds are constantly needed. Experts in geology, solar, hydroelectric, and wind power can find work at many companies looking to switch to producing alternative energy. Many long-time fossil fuel based companies, such as car manufacturers, also offer alternative energy jobs in the hopes of keeping the company current with new energy developments.
A background in engineering can be incredibly useful when searching for alternative energy jobs. One of the biggest challenges in the field is switching to green energy on large scales, as opposed to fueling individual buildings or residences. Creating alternative energy systems that can supply whole cities with environmentally friendly power is a major goal of many environmentalists, and engineers with innovative minds are vital to the cause.
With interest in building green homes and businesses soaring, many construction companies now specialize in green construction and retrofitting. While this may not be the forefront of alternative energy jobs, working in green construction does a lot of good on grassroots levels. By installing solar panels, updating wiring and insulation, and educating clients about proper maintenance and upkeep, alternative energy jobs in construction are helping the environment building by building, as well as saving clients much needed money in utility bills.
The world of alternative energy jobs is a broad field of possibilities. Although some jobs require multiple degrees and experience, there are many entry level positions always in need of bright minds looking to learn. Even the largest alternative energy companies in the world need administrative assistants and janitors, and may offer environmentally-conscious workers the comfort of knowing that their place of employment is helping to build a cleaner, safer, more sustainable world.
Someone who works in the alternative energy industry might work in a hydroelectric power plant.

Installing solar panels is one way to have a career in alternative energy.

Analysts in the wind turbine industry determine if a given location can yield a profitable amount of power.