What Are the Best Tips for Writing a Psychology Essay?
A strong psychology essay requires a good topic, research, appropriate citation, and a well-written exploration. Whether the topic is self-selected or assigned, the student must research it by consulting scholarly sources, which will typically be referenced in the essay in APA® Style. In general, a psychology essay will have an introduction, body, and conclusion, though students should be alert to the possibility of other formats. After writing each of the required parts and an appropriate reference list, students should plan to review their material in several ways.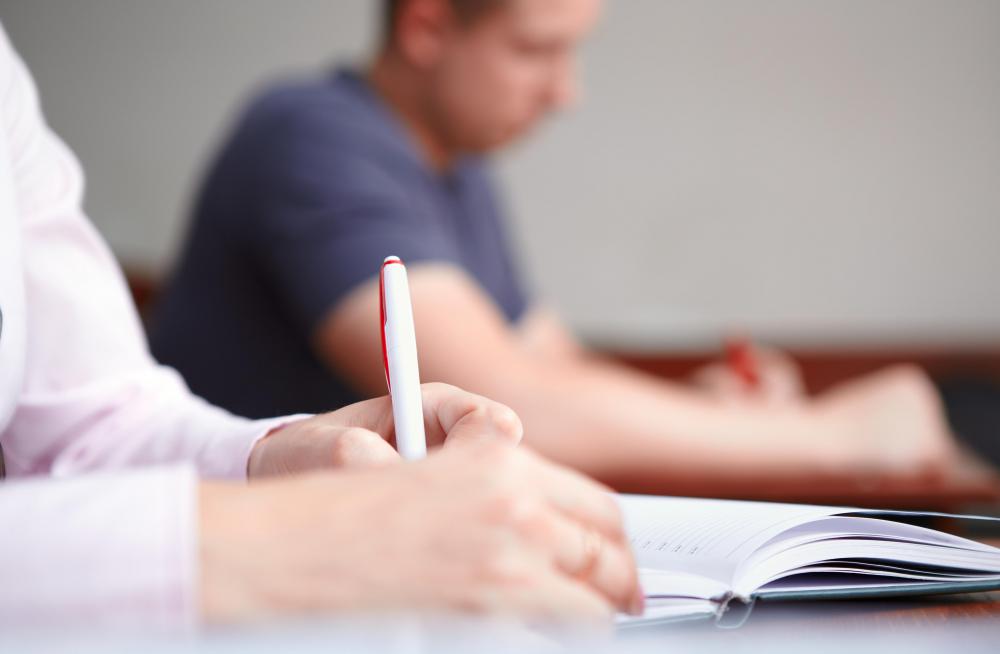 Sometimes psychology essay topics are assigned, but very often, they're self-generated. Among the many options, writers might compare theories, argue for a specific treatment, or give a basic overview of a mental illness. Topic choice is best dictated by whether a topic is too broad or narrow for the scope of a paper, and if it can be properly defended or explored through research. Almost all psychology essays are de facto research essays, which makes the writing more scientific in nature. Therefore, writers should always take a first glance at periodicals or books to determine if they'll find what is needed to write about a specific topic.
Once a topic is chosen, research begins in earnest. The best tip in this area is to consult the bibliography of any articles that appear to be relevant to the topic. This is often a way to find other related material without hours of searching.
For a psychology essay, most research will need to come from books or scholarly articles. Typically, scholarly articles are peer-reviewed. Many library search engines now allow people to limit returns to scholarly journals. Furthermore, if discussing a topic that is still current, such as a disease, most research shouldn't be older than five years, or it may be considered outdated.
With the appropriate research, writers can construct their psychology essay. It should begin with an introduction that clearly states the focus of the paper. An apparent thesis statement is expected to alert the reader to the writer's focus.
The middle section of the paper is a thorough explanation of the thesis. Each new point should feature a reference to the literature with appropriate citations. Most American writers and some European students use citation methods created by the American Psychological Association® (APA®). It is exceptionally important that people follow the style guide their teachers have recommended, in addition to using appropriate grammar, spelling and punctuation.
After the essay's topic has been explored, students conclude in one or two paragraphs. This is a brief restatement of the relevant points, and it may include more subjective content. Depending on the paper type, opinion may be acceptable in the paper's body, but only if it is supported by research. Generally, students need to avoid the first person — making statements beginning with "I" — when they are constructing subjective statements.
The last part of the paper provides a list of references, which should include every source cited. Failure to properly cite sources in the paper or include sources used in the list of references can be a problem, and in many universities, it's viewed as plagiarism. A good tip to avoid accidental omission is to create an organized list of quotes or paraphrases and their full citations as the research is being conducted. This can take the work out of creating the final reference list. Writers should also avoid lengthy quotations and plan to restate most material in their own words.
Before a psychology essay is turned in for a grade, students should review it several times. One reading can evaluate the paper's logic, and look for any areas that are unsupported. Another review of the essay can search for errors in sentence structure, spelling and punctuation, and assess things like transitions and word choice. Writers should also search for any lack of conformance to the style guide. Students may additionally benefit from having tutors or peers read and make suggestions about their work.
By: Rido

An essay writer should keep in mind the intended purpose of a paper and its audience.

By: AlexOakenman

A psychology essay should begin with an introduction that clearly states the focus of the paper.