What are the Best Tips for Cheap Scrapbooking?
Cheap scrapbooking begins with building a supply of basic tools, books, and paper. Shopping for scrapbooking supplies can be costly and overwhelming, so knowing the difference between an essential and something extra can help keep the cost down. The books themselves can usually be purchased at discount stores or on sale. Since they come in unique sizes, either 12 inches x 12 inches (about 30.48 cm x 30.48 cm) or 8 inches x 8 inches (about 20.32 cm x 20.32 cm), it is not as simple as simply purchasing a photo album.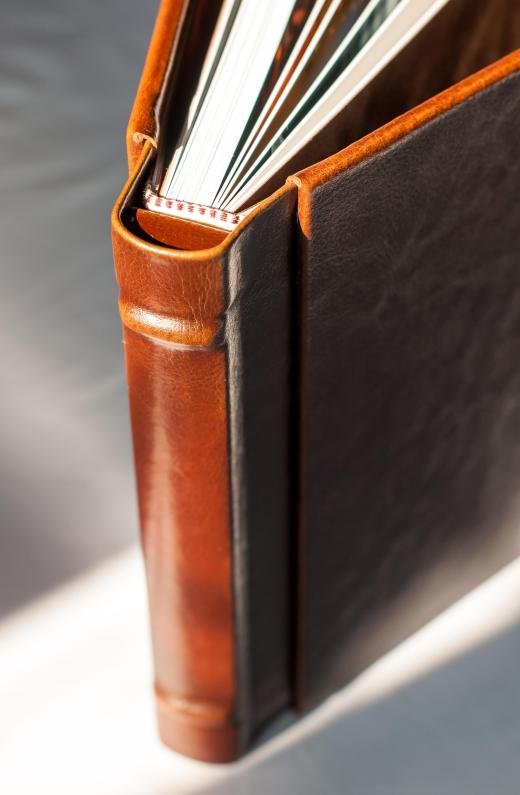 One way to save on the cost of paper is to purchase it in large pads. The pads have hundreds of sheets in different patterns and colors and are often times season- or theme-specific. The sheets can be mixed and matched on the same scrapbook page. This is much less costly than purchasing a border or frame for each photo. Instead, a frame can be made with a coordinating sheet of paper from the stack.
Being able to edit a page can be essential to cheap scrapbooking. Not every photo needs an embellishment, frame, or lots of details. Booklets of vellum quotes and other designs are much less expensive than purchasing individual details and can provide variety.
Scrapbookers can look beyond the scrapbook store or boutique for details and additions to their scrapbook pages. Stickers are available for all occasions and can be quite inexpensive. Craft store sale bins are another place to find unique, cheap scrapbooking items.
Attending a scrapbooking session at the local scrapbooking store is an easy way to do some cheap scrapbooking. These events often feature great deals and the ability to trade supplies with other scrapbookers. Also, there are sure to be new tools to try and use before making an investment. Scrapbookers can share tips and get creative ideas that will help save money while enhancing their books.
Printable scrapbook pages can be another cost-effective way to create a beautiful memory page. Computer programs or online templates can create borders, frames, and quotations around personal photos. These are as simple as printing on blank paper or inserting colorful scrapbook paper into a printer.
Cheap scrapbooking is all about being creative with time and resources. Using basic household items, such as scissors, rulers, colored pencils, and tape, will save on the cost of scrapbooking-specific tools. The results can be just as beautiful as a high-priced scrapbook without breaking the bank.


By: Sergey Mostovoy

Building a supply of basic scrapbooking tools is the first step toward cheap scrapbooking.

By: SilviuFlorin

Scrapbooking albums come in specific sizes.

By: Monkey Business

Cheap scrapbooking is all about being creative with time and resources.

By: nito

Scrapbookers might use extra materials laying around the house to add finishing touches to a project.

By: Sergey Mostovoy

Twine, clothes pins, and card paper are examples of items that can be found around the house and repurposed for scapbooking.