What are the Best Knee Pain Treatments?
Knee pain is a condition that can often be not only very painful, but is often difficult to treat effectively. Some of the best knee pain treatments include using certain pain medications, undergoing physical therapies, and even receiving knee surgery. Though knee surgery is often the best way to treat knee injuries, it also has the most risks associated with it. In addition, even after knee surgery, an individual will still typically require physical therapy and certain pain medications.
One of the most typical and most effective forms of knee pain treatment involves using specific types of pain medications, especially for knee pain associated with arthritis, bursitis, sprains, and strains. Often, doctors and other health care professionals will initially recommend over-the-counter pain medications such as Tylenol®, ibuprofen, and other similar medications. These medications are both successfully used to treat pain and discomfort, and in some cases can also reduce inflammation. If over-the-counter medications are not effective, a doctor may want to prescribe a stronger painkiller. The patient should be sure to let him or her know if pain persists after taking the medications for a few days.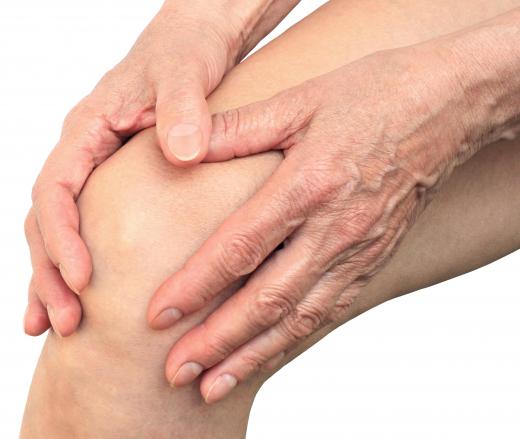 Physical therapy is another common form of knee pain treatment that may not necessarily treat the underlying condition, but instead will help to alleviate the symptoms. This is typically done through performing stretches that increase range of motion, using heat to ease discomfort associated with the knee pain and surrounding muscles, and promoting strength exercises that protect the knee from future injury. For rare knee pain conditions, it is important to work with a qualified physical therapist who has experience working with individuals with similar diagnoses. General practitioners should be able to refer their patients to a physical therapist who can meet their specific needs.
Finally, if an individual does not experience relief from the knee pain treatments described above, he or she may require surgery to cure the knee pain. The most common types of knee injuries that require surgery are ligament tears, such as an anterior cruciate ligament tear. A doctor will typically be able to recognize immediately if knee surgery is required in injuries such as these. As with physical therapists, it is important to be sure that the surgeon is experienced in performing the specific knee surgery that is required for best results. Even though a person may have undergone surgery, he or she will still typically require physical therapy and a number of pain medications in order to heal completely from the knee injury.
AS FEATURED ON:
AS FEATURED ON:






By: koszivu

Rheumatism is a disease that causes pain and inflammation in muscles and joints.

By: Raia

A man with a twisted knee.

By: JPC-PROD

Physical therapy is a common form of knee pain treatment.