What are the Best Knee Pain Cures?
The best knee pain cures depend entirely on what is causing the pain in the first place. While exercise and stretching may relieve knee pain for some injuries or conditions, it may not help or may even worsen other conditions or injuries. Medication may be considered one of the best knee pain cures for some patients, but others may not respond to it at all. To find the best knee pain cures, one should first discover the root of the pain and understand what to do to fix the problem. Once the cause has been identified, many cures may be available.
Muscles and ligaments that surround the knees can almost always benefit from regular exercise and stretching. The weaker muscles and ligaments become, the less able they are to support the joint and the rest of the leg. Muscles will become tired very quickly, and when muscles tire, they tend to tighten, which can cause pain and discomfort in the knee as well as the rest of the leg. Exercise is one of the best knee pain cures, assuming the knee has not been injured in some way. If an injury has occurred — such as a fracture, sprain, or strain — exercise may actually injure the knee further.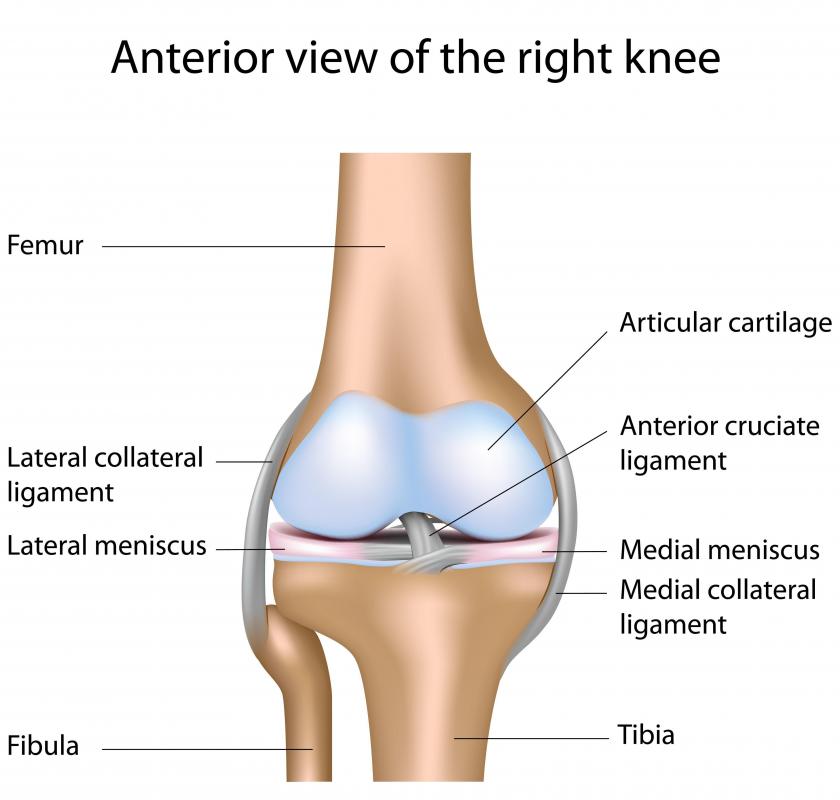 Knee injuries range from muscle strains and ligament sprains to bone fractures. The severity of the injury will dictate the best knee pain cures; torn ligaments may require surgery, but strained muscles may only require sufficient rest followed by light stretching and exercise. A fracture in the bones that make up the knee joint may also simply need time to heal, but more severe fractures may require surgery to repair. A professional diagnosis from a doctor will be necessary if a knee injury has occurred. A doctor may recommend surgery, physical therapy, medication, or even steroid injections.
Sometimes the best knee pain cures are quite simple. A brace that helps support the knee during physical activity may be enough to prevent pain in the knee, or over-the-counter medications such as acetaminophen may dull the pain enough until it goes away on its own. Chronic knee pain, however, may be a sign of a larger problem. Arthritis, for example, commonly develops as humans age, and specific treatments may be necessary to manage arthritic pain. In some cases, the joint wears out enough that a knee replacement surgery may be necessary. The recovery for such a surgery is quite long, however, and pain will persist for a long period of time after the surgery. Most patients do feel relief after such a surgery, and the knee may end up becoming stronger than it was before.