What are the Benefits of Walking Vs Jogging?
People looking to begin an exercise routine often end up questioning which type of exercise will best serve their body. While any type of cardiovascular exercise can provide a great workout, it is important to remember that not everyone will benefit from a high impact routine such as jogging or running. Looking at the benefits of walking vs jogging can help a new or experienced exerciser choose the right routine for optimal health and fitness.
Jogging, while good for burning calories, can be quite hard on the body. One of the most important issues in walking vs jogging is the presence of injury or health problems. Those with knee, back, or neck problems may find injuries flaring up with regular jogging. The heavy impact of feet hitting the ground at jogging speed can jar the body, leading to pain and aches that can throw off a workout routine. Additionally, those with heart conditions, high blood pressure, or people who are considered obese should consult a doctor before beginning to jog.
When considering walking vs jogging, it is also important to set goals for a new workout routine. Factors to think about include whether this routine is meant purely for exercise, or to also help reduce stress. Is it to allow for more time outdoors, or to simply take care of the body's need for exertion? Walking, though it can be done at varying speeds and difficulties, may provide additional benefits for those looking to reduce stress and enjoy a meditative experience. When walking with friends, it can also provide ample opportunity for conversation that couldn't be accomplished while jogging.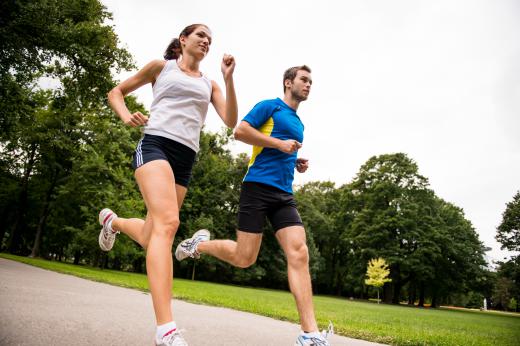 The person's level of experience and fitness may also factor in when considering walking vs jogging. Anyone with the ability to walk can do so, although endurance must be built with time and practice. Jogging, on the other hand, must be carefully handled to avoid overexertion. Not many people new to exercise can jog for 30 minutes without stopping, leading to the need for jogging programs that increase the amount of jogging done in each workout session.
For those considering walking vs jogging for weight loss, it may be surprising to find out that walking may hold some benefits. Although over equal amounts of time, jogging burns more calories, the intense level of exertion can lead to exhaustion and increased appetite. For those not carefully regulating diet, this can easily cause overeating, and make it more difficult to keep up with a workout program. While a person will need to walk farther to get the same caloric burn as a jogger, the lower level of stress on the body can help an exerciser stick to his or her routine.
AS FEATURED ON:
AS FEATURED ON:






Power walking is recommended for the elderly.

By: Martinan

Jogging provides an aerobic workout.

By: Syda Productions

Walking offers great exercise without pounding the knees and other joints.

By: Deklofenak

Running and jogging are both forms of high impact aerobics.

By: yanlev

Those with knee pain may find that injuries flare up with regular jogging.

By: expressiovisual

The more intense level of exertion during jogging can lead to exhaustion.

By: Maridav

Fitness walkers burn a similar amount of calories as joggers.