What are the Advantages of Credit Union Banking?
Credit union banking often offers several advantages over banking with a traditional financial institution. Credit unions operate on a not-for-profit basis, which allows them to provide members with reduced cost financial services. These benefits often include free checking, lower interest rates, minimal overdraft charges, reduced ATM fees, and better credit card options. Credit unions are also owned by the members, which often results in better customer service. In the U.S., credit union bank accounts are insured by the federal government.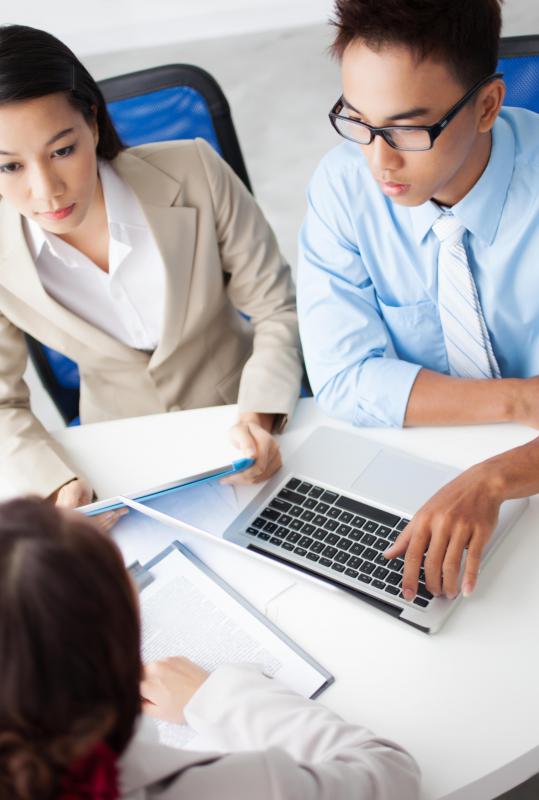 Traditional financial institutions typically operate to increase the bottom line. One of the advantages of credit union banking is that profits are used to provide affordable financial services to members, and any remaining profit is passed on to members in the form of dividends. As a result, over 70% of credit unions provide members with free, no-strings-attached checking accounts. Credit unions also use profits to provide members with lower interest rates than are typically offered by traditional banks. For qualified members, interest rates on a mortgage, auto loan, or personal loan can be anywhere several percentage points less than at a traditional bank.
As credit unions do not make a profit from members, credit union banking often offers reduced fees when compared to traditional banking. Statistics show that overdraft fees in the U.S. at a credit union can be as much as $15 less than at a bank. Many credit unions also do not charge members for using an ATM outside of the credit union's network; many have arrangements with out-of-network banks to allow members to use ATMs on a no-fee basis. With a traditional bank, customers are often charged twice for using a machine not owned by that bank.
Credit union banking also often provides members with deals on credit cards. Many credit unions offer qualified members credit cards or lines of credit with little to no annual fees and better interest rates than traditional banks. In many cases, credit unions are also more lenient with late payments, and many people have found that a credit union is more willing to work with members during a difficult time than a bank.
Each member of a credit union owns a portion of the credit union. This tends to result in members being viewed as partners by the credit union rather than customers or a means to make money. Customer service ratings for credit unions as opposed to traditional banks are often significantly higher; credit unions are typically local, with only a handful of branches, allowing those working at a branch to get to know the members and provide them with personalized service.
In the U.S., traditional banks are backed by the Federal Deposit Insurance Corporation (FDIC), thereby providing each depositor with $250,000 insurance on his or her account. Credit union banking also provides the same assurances. The National Credit Union Administration (NCUA) provides the same amount of insurance that is also backed by the federal government. This gives members the assurance that, should the credit union shut down, a good portion of their money is protected.
Many credit unions offer free, no-strings-attached checking accounts.

By: DragonImages

Credit unions sometimes offer their customers good deals on credit cards.