What Are Parmesan Potatoes?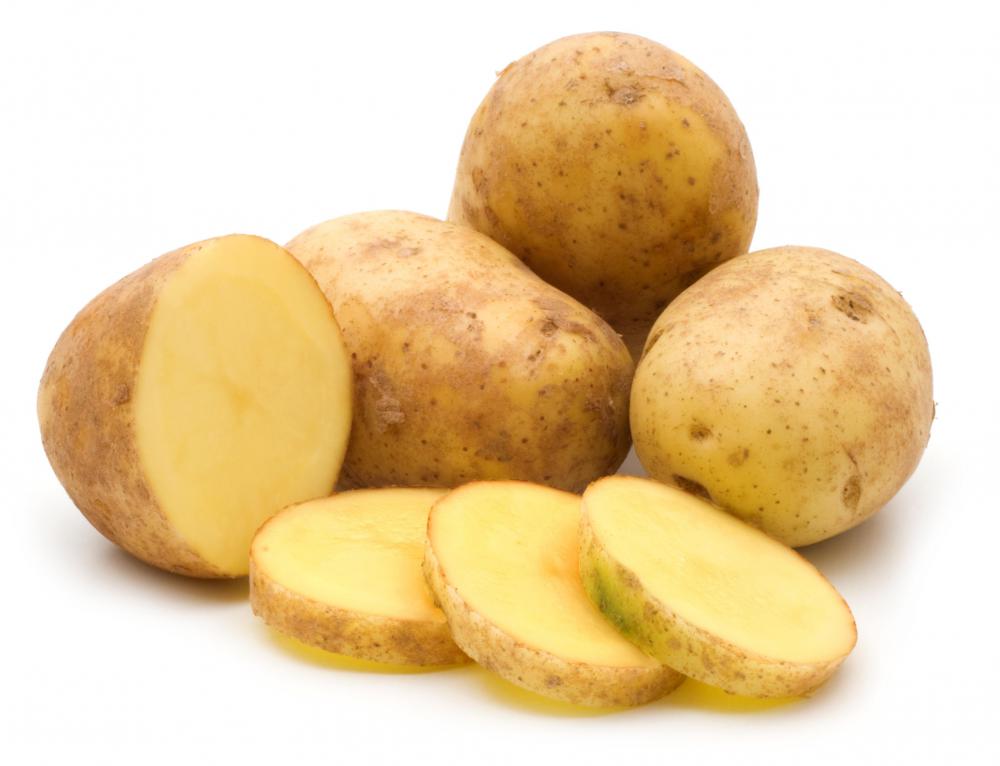 Parmesan potatoes is a name used to describe many recipes that contain potatoes and Parmesan cheese. Usually served as a side dish, Parmesan potatoes can be either hot or cold. Many potato varieties can be used to make the dish, so the type of potatoes used in a Parmesan potato recipe often depends on the cook's personal preference. The potatoes used in Parmesan potatoes can be grilled, roasted, boiled, fried, or baked.
An easy, roasted Parmesan potato dish can be prepared in a few simple steps using basic ingredients. First, raw potatoes are peeled, cubed and placed in a casserole dish. Butter is added, along with salt, pepper, and any other seasonings the cook desires. The seasoned potatoes are then coated with either grated or shredded Parmesan cheese. After being places in an oven that's been pre-heated to about 400°F (about 204°C), the dish is baked for 30 to 45 minutes.
Many Parmesan potato side dishes are served mashed or smashed. To make mashed Parmesan potatoes, scrub and peel the potatoes, and then boil them in salt water for about 30 minutes until the potatoes are fork tender. Next, mash the potatoes until they are the desired texture. Finally, add butter, milk, cream, and other ingredients, and stir the ingredients until the mixture is the desired consistency. Some reserved salt water from the cooking can be used to make the mashed Parmesan potatoes smoother, and to add more flavor.
Oven-fried Parmesan potatoes can be a good alternative to traditional French fries. To start, the potatoes are cleaned and cut into wedges, either peeled or unpeeled, depending on the cook's preference. The potato wedges are placed in a plastic bag, to which oil, grated Parmesan cheese, salt, pepper, and garlic powder are also added. The bag is shaken so that the potatoes are thoroughly coated with the ingredients. The potatoes are placed in a single layer on a baking sheet, and then placed in an over that has been pre-heated to 450°F (about 232°C) and baked for about 30 to 35 minutes.
Potato salad is another simple side dish that can be made using potatoes and Parmesan cheese. Cleaned cooking potatoes are cooked, cut into cubes, and then placed in a bowl. Other ingredients are then added, like chopped boiled eggs, celery, onions, and green pepper. Grated Parmesan cheese and mayonnaise are added, and the ingredients are thoroughly mixed together.
By: Andre

Raw potatoes.

By: Bert Folsom

A small bowl of grated Parmesan cheese.

By: Joe Gough

Parmesan potato dishes are often served mashed.