What Is a Breakfast Potato Casserole?
A breakfast potato casserole, commonly called egg bake, is a mixture of hash brown potatoes, eggs and meat or fish. This type of casserole is commonly covered in shredded cheese and baked in a hot oven until the dish is golden brown and bubbly. Other ingredients, such as onion, peppers and mushrooms, can be added to the casserole. Commonly served for breakfast, the breakfast potato casserole is also served for brunch in many areas of the world.
Designed to be a single-pan dish, breakfast potato casserole can be mixed, baked and served in the same pan. Similar to an omelet, breakfast potato casserole commonly contains multiple flavors in a single bite. In some areas, multiple meats are included in the casserole. Sausage, bacon and ham are commonly used in conjunction with the vegetables and eggs.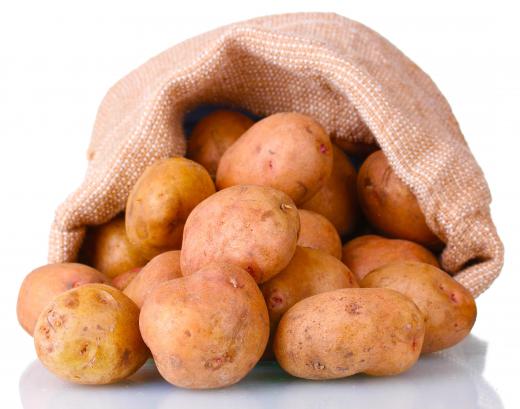 Other versions of the dish remove the meat and replace the eggs with an egg substitute to create a vegan or vegetarian type of dish. For a traditional dish with added heart benefits, the dish can be made using only egg whites or an egg replacement. Fish, such as smoked salmon, can also be used to replace the meat in the casserole.
One of the benefits in preparing a breakfast potato casserole is that the entire dish can typically be prepared a day ahead of time and then warmed in an oven or microwave prior to serving. The dish is also handy when feeding several people and can be ready for the oven in a matter of minutes, in most cases. While fresh ingredients commonly offer better nutrition, this dish can be made using frozen potatoes and vegetables with equal success. Any leftover egg bake can be frozen and served at a later time by simply reheating the mixture. Adding a small amount of freshly grated cheese can liven up the taste of the leftover dish.
Additional ingredients that go well with the breakfast potato casserole are sour cream, salsa and chili. Spooning a small amount of any of these ingredients over the top of the egg and potato dish can add a unique taste to the dish. Sausage gravy also works well when combined with the dish and gives some flash to the traditional biscuit and gravy dish. For a spicy version of the casserole, cayenne pepper, jalapeno peppers or chili powder can also be added to the mixture to give the dish added kick. The traditional breakfast dish can be easily adapted to becoming a dinner-time meal with the substitution of chicken or turkey in place of the breakfast meats.
AS FEATURED ON:
AS FEATURED ON:






By: Africa Studio

Potatoes.

By: sparkia

Bacon is often included in breakfast potato casseroles.

By: PhotoEd

Smoked salmon can replace other meats in a breakfast potato casserole.

By: andriigorulko

Eggs are usually one of the main ingredients used in breakfast potato casserole.

By: Bronwyn Photo

A ham and potato casserole may be eaten for breakfast.