What Are Menstrual Mood Swings?
Menstrual mood swings involve inappropriate emotional responses or rapid mood changes that women experience before menstrual flow begins. Mood swings are the emotional and psychological symptoms women endure as part of premenstrual syndrome, commonly referred to as PMS. Causes and treatments vary and effective relief may require a complete physical examination.
Expressing raging anger over everyday or trivial annoyances is a typical sign of a menstrual mood swing. Women who are composed and calm one moment and in uncontrollable tears the next may be suffering the effects of menstrual mood swings. Symptoms generally coincide with the luteal phase of the menstrual cycle, as progesterone levels rise and fall in preparation for possible pregnancy. This phase generally lasts from one to two weeks before actual flow begins. Once the menstrual flow commences, symptoms usually subside.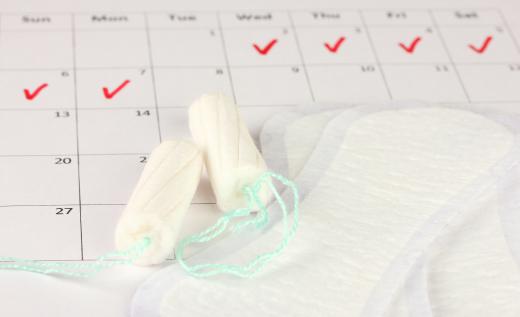 During PMS, women generally report feeling increased anxiety and tension levels along with general irritability. Individuals may become overly sensitive and exhibit symptoms of depression. All of these emotions may culminate into menstrual mood swings as hormone fluctuations seemingly interact with the neurotransmitters serotonin and gamma-aminobutyric acid (GABA). For some women, menstrual mood swings become so severe that they cause disruptions with family, social, and work relationships. Exacerbated symptoms may be signs of a more serious disorder known as premenstrual dysmorphic disorder, or PMDD.
Though many women experience menstrual mood swings and other PMS symptoms, scientists suggest that the causes vary from individual to individual. Some causes of menstrual mood swings include hormone imbalance. Studies suggest higher than normal estrogen levels trigger the release of norepinephrine, which is present in times of anger. Some women have decreased progesterone levels, which may produce symptoms of depression. Lowered progesterone levels also decrease allopregnanolone, a byproduct of the hormone's break down. Allopregnanolone enhances the effects of GABA.
Studies also indicate GABA levels cannot increase in times of need without adequate levels of allopregnanolone. Inadequate diet and vitamin and mineral deficiencies have been linked to menstrual mood swings. Some women experiencing irrational anger exhibit low levels of vitamin B6. The body requires carbohydrates to manufacture tryptophan, a precursor to serotonin. Researchers suggest this may be the reason why women have cravings during certain phases of menstruation.
As causes of the symptoms vary, so do the treatments for PMS mood swings. Some women benefit from increased exercise, as physical activity decreases anxiety and stress levels. Exercise also increases endorphin levels. Some women experience symptomatic relief by taking vitamin and mineral supplements. Oral contraceptives benefit some individuals by balancing hormones, while other women require antidepressants.
AS FEATURED ON:
AS FEATURED ON:






By: Africa Studio

Menstrual mood swings generally occur soon before a woman's menstrual flow begins.

By: designua

Drastically changing hormonal levels can lead to mood swings in women.

By: snyggg.de

Emotions may culminate into menstrual mood swings as hormone fluctuations interact with serotonin.